This Is Uncharted Territory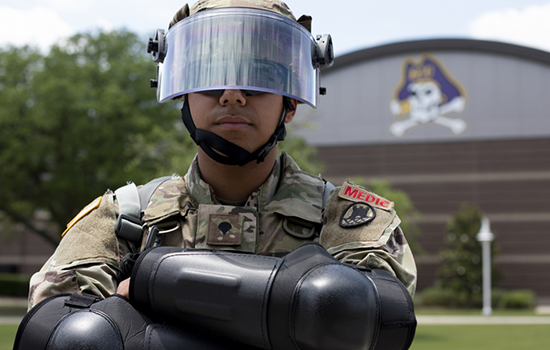 After three months of pandemic and emergency measures, our nation is in crisis.
The National Guard was being hailed as frontline heroes, slowing the devastation of COVID-19 alongside first responders and healthcare workers. Now, Guard families are kissing their service members goodbye in the morning and grappling with headlines that look very different.
Active duty families have spent the last few days googling the Posse Comitatus and Insurrection Acts. And now, they are searching for clarity as the President calls for active duty military to quell the protests and the Secretary of Defense comes out against the use of active duty military in a law enforcement role.
When military families have questions, the National Military Family Association finds answers. We jump in and fight for the answers and actions military families depend on and deserve. When our community is divided, we then try to say something that unites us and creates a path forward together.
But this is uncharted territory.
Service members sign up to serve our nation, protect America, and defend the Constitution. Families serve right alongside, and we know that means we will be put in extremely difficult situations — sometimes morally, often physically and financially, always logistically. We know we signed up for moves around the country and the world every few years, deployments, long periods of absence from our loved ones, stymied careers, birthing babies by ourselves, turning to our neighbors in the hardest times, being willing, if we must, to walk this life alone. We signed up for all of it. We know what it's like to go to war, we've been at it, continuously, for almost twenty years.
But did we sign up for this? We don't even know what this is.
As we write this, social media is aflame with mistruths, concerns about activations, and blackout images. Our streets are packed, our cities are broken, and the pain of our country is laid bare — particularly the pain borne by Black Americans.
And our Commander-in-Chief raises the stakes — and the uncertainty:
"We're going to clamp down very, very strong," President Trump said Monday in a call with state governors (call transcript here). "The word is 'dominate.' If you don't dominate your city and your state, they're gonna walk away with you. And we're doing it in Washington, in DC, we're going to do something that people haven't seen before … But we're going to have total domination."
Right now, NMFA stands here with you, questioning. Worried, in pain, grieving, afraid, searching for calmer voices, looking for unity, praying for peace, desperately hoping for better.
At the end of the day, we, at the National Military Family Association, are a collection of military-connected family members always hoping for better. Like America as a whole, the military community is not a monolith: we're Republicans, Democrats and independents, conservatives and progressives, Gen Z and older, Christians, Jews, Muslims, atheists, black, dark, light, forward-thinking and traditional, and everything in between.
While it's usually our job to ask the hard questions and demand the best answers, right now, we know it's time to listen.
Tell us what you're thinking. We'll work to find answers. Together we're stronger.