Explore Operation Purple at Home
Click on an adventure and learn more about activities and resources for your camp week and beyond!
Outdoor Adventurer Subscription Boxes for Military Families
At the National Military Family Association, we've seen how nature brings military families together at our Operation Purple camps for kids and retreats for families. The healing properties of the great outdoors help families connect, spend time together, and create new memories away from the daily routine of computer and television screens.
THiNK OUTSiDE Boxes gets your family outside together with monthly subscription boxes full of outdoor gear and resources to encourage family connection and learning while outside exploring nature!
With different plans at different price points, you can tailor your subscription to best fit your family! Cancel anytime. Shipping within the U.S. is always free!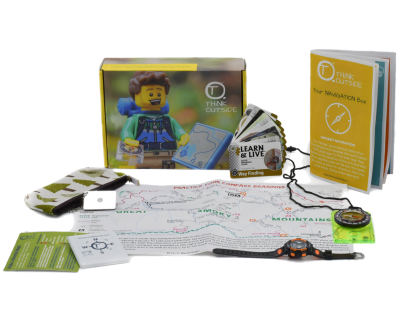 Monthly Themes
There's a new theme in every box, covering nature, night-time discovery, hiking and more!
Explore Nature
Each box encourages learning—both in the outdoors and in your home!
Activities for the Entire Family
Learn along with your children as you practice hands-on activities like water filtration and star navigation!
Award Winning Program
THiNK OUTSiDE is the winner of the Mom's Choice Awards Honoring Excellence in Educational Products, and Parent's Choice Silver Award winner for Subscription Boxes.
Just For Military Families!
Thanks to our friends at THiNK OUTSiDE Boxes, military families who use the code below at checkout will receive an exclusive $15 discount for a new subscription.

NMFA15