These Are the Advocates Who got the Widow's Tax Repealed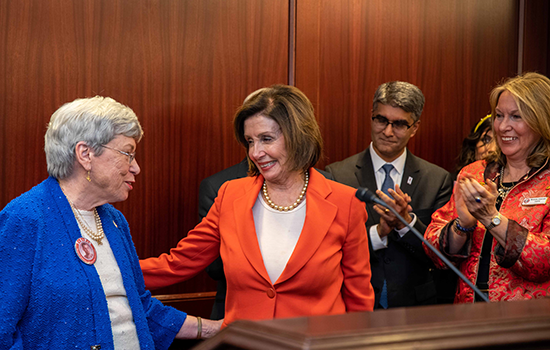 "We did it!," Edie Smith said, clapping her hands as she addressed a room full of friends and supporters. "I've been waiting a long time to say that."
Edie, and surviving spouses like her, have been waiting more than just a long time to claim victory – many have been fighting for decades. Alongside them, NMFA has been a top supporter in advocating for the elimination of the unfair Widow's Tax. We weren't in that fight alone, either. We've been joined by groups like TAPS, VFW, MOAA, and Gold Star Wives of America – all committed to making sure that our surviving spouses are taken care of. From now on, they will be.
The Widow's Tax was finally eliminated in the Fiscal Year 2020 National Defense Authorization Act and this week, we co-hosted a #WidowsTaxAxed Congressional Reception to celebrate with 125 surviving spouses, military service organizations, Congressmen, and staffers.
Sen. Doug Jones (D-AL), an unrelenting ally for those fighting to end the Widow's Tax, remarked on what made this year's effort different. "When people said it couldn't be done, I said, 'I think you're underestimating all those women I've been talking to."
Edie Smith, longtime NMFA volunteer and advocate, was honored in this year's HillVets 100 for her work on the issue. She was pivotal in moving the needle on the Hill and motivating survivors to advocate for themselves.  NMFA Government Relations Director Kelly Hruska was also honored in the HillVets 100 for her work in the repeal of the Widow's Tax.
"You're living proof that democracy is not a spectator sport," Edie told the crowd.
At her side was gold star wife Kristy DiDominco who, like Edie, felt the call to act. "When you lose your spouse, you lose your current life," Kristy said. "Your confidence goes. Everything changes. This allows us to move forward. We'll never move on, but we'll move forward."
Kristy rallied surviving spouses on Facebook, bringing the SBP-DIC offset battle to social media and engaging more than 2,000 surviving spouses and advocates in the fight for change.
Together with military service organizations, Rep. John Yarmouth (D-KY), and Rep. Joe Wilson (R-SC), who carried the bill for 10 years, survivors shared their stories and became their own best advocates.
"Thanks to all of you, it happened," Rep. Nancy Pelosi (D-CA) said. "On behalf of everyone in the Congress, sorry it took so long."