The GI Bill Gets a Makeover
By: MJ Boice, Staff Writer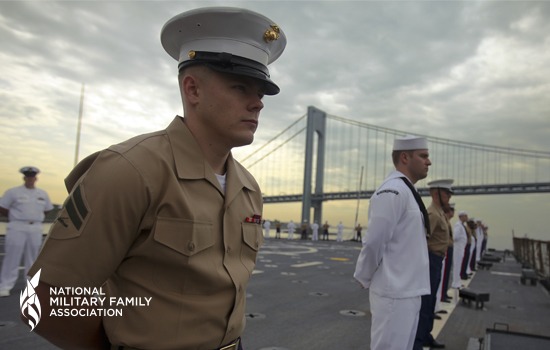 A few months ago, Congress passed the Harry W. Colmery Veterans Educational Assistance Act, commonly referred to as the Forever GI Bill. These new benefits are actually expansions to the Post-9/11 GI Bill, and include 31 new provisions that aids service members and their dependents.
NMFA recently sat down with Veterans Affairs Director of Education Services, Rob Worley, to learn more about the Forever GI Bill and how the new provisions might impact military families.
Elimination of the 15-year Limitation
Previously, service members were required to use their Post-9/11 education benefits within 15 years of leaving active duty. Under the Forever GI Bill, any service member who left active duty on or after January 1, 2013 will no longer be subject to the 15-year limit of their Post-9/11 education benefit.
All others remain subject to the current 15-year time limitation for using their Post-9/11 GI Bill benefits.
Monthly Housing Allowance
Currently, students who use the Post-9/11 GI Bill receive a monthly housing allowance (MHA) based on the zip code of their school's main campus. For example, if you take classes through a school located in Hawaii, but those classes are physically held aboard your installation, your MHA would be calculated based on the zip code of the school's main campus in Hawaii.
Beginning August 1, 2018, MHA will be calculated based on the zip code where the student physically attends most of their classes. In the scenario above, it would be the school's satellite office aboard your installation.
Changes to Transfer of Benefits
In the event of a service member or veteran's death, dependents who were initially entitled to transferred education benefits can now transfer their entitlement to another eligible dependents, as well. Veterans can also designate a new dependent if the original dependent dies before the entitlement was able to be used.
School Closure Assistance
Under the Forever GI Bill, the VA may be able to restore education benefits and provide assistance to students impacted by school closures and other certain disapprovals. You may be eligible under this provision if you were unable to complete a course or program when:
Your educational institution closed;
A new law, policy, or program results in disapproval of a course associated with your program after you've already enrolled;
Credit or training time toward your program was lost.
A Note on In-State Tuition
Veterans and dependents attending an Institution of Higher Learning (IHL) while using their Post-9/11 benefits are *
guaranteed for the in-state tuition
rate for as long as they are using VA education benefits.
In order for IHLs to remain approved to accept GI Bill funds, they are required to charge only the in-state tuition and fee amounts to covered individuals.
These are just a few of the 31 provisions within the new Forever GI Bill. To learn more about recent and future changes, visit the VA Education website.
*A Veteran or dependent using transferred benefits who lives in the state where the IHL is located (regardless of his/her formal state of residence) and enrolls in the school within three years of discharge from a period of active duty service of 90 days or more.
Posted March 20, 2018