Thank you, Congresswoman Schroeder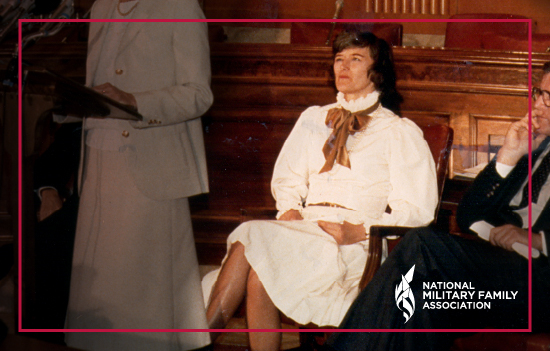 Military families lost a long-time advocate on March 13, 2023, when Representative Patricia Schroeder (1st/CO) passed away. She was a ground-breaker in many ways, but most importantly, she was the first woman to serve on the House Armed Services Committee.
Best known for her work to get the Family and Medical Leave Act of 1993 signed into law, Representative Schroeder created the foundation for which many military family programs were built.
In addition, Representative Schroeder was pivotal to the creation of the Military Family Act of 1985, which she introduced in the House of Representatives. This critical legislation established the Office of Family Policy within the Department of Defense. It also required the Services to provide relocation services for a PCS and allowed spouses and dependents to run limited business activities from military family housing. Most importantly, it also required the Secretary of Defense to provide child care facilities on installations on a 24-hour basis, as necessary, and created the military family dental benefit.
Representative Schroeder didn't stop there.
In 1989, she was an original cosponsor of the Military Child Care Act of 1989. The Military Child Care Act created the Child Development system we know today. It required:
The Secretary of Defense to make operation and maintenance funding available for military child care only.
Created a uniform training program for child care employees.
Increased child care employee pay so it was comparable to other employees on the same installation.
Gave hiring preference to qualified military spouses as child care employees.
The Secretary of Defense to issue standard regulations for Child Development Centers' fees and priority for accepting children, with first priority given to single service members with children and second priority to dual service couples.
NMFA was honored to work alongside Representative Schroeder to get these important pieces of legislation enacted for military families.
Thank you, Representative Schroeder for all you did for military families. You recognized their service and sacrifice and acted. Military families are forever grateful.
Posted by: Kelly Hruska, Government Relations Director