Tax Season Tips for Military Families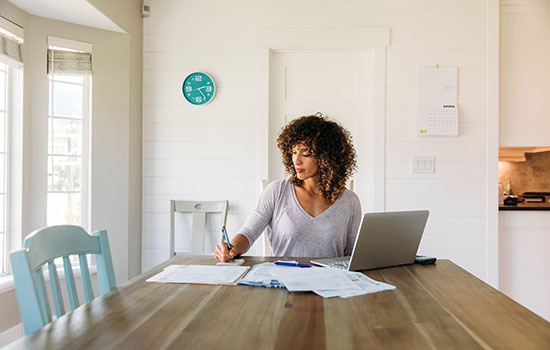 This year's tax season starts on 24 January 2022 and runs through 18 April 2022.
Tax season can be a confusing time for everyone. Thankfully, there are plenty of organizations and resources available to help military families with their taxes – including several ways to file your taxes for free. We recommend you explore the free services available to you as a benefit before you consider using a paid service.
Keep in mind, this year the IRS is backlogged and facing challenges due to the pandemic, so there may be delays with processing returns and receiving any refund you are owed. The IRS encourages taxpayers to file electronically if possible and avoid a paper return, which they say could take several weeks longer to process.
Here are a few tips to get you through the tax season:
Gather Your Tax Documents First
Before you begin filing your taxes, it's important that you have all necessary documentation to complete the process. Examples of these documents include:
Your family's personal information, such as Social Security numbers
W2 form(s) from each employer you worked from over the last year. If your service member is deployed, you'll need a Power of Attorney (POA, IRS form 2848) as well as their MyPay information so you'll be able to access their W2 form
Forms reporting any income from savings and investments or dividends (1099-INT, 1099-OID, 1099-DIV)
1099-MISC form from each company you did business with and/or independent jobs you've performed over the last year (unless you earned less than $600 for the year);
1098 form from your mortgage company if you own a home. For most people, mortgage interest is tax-deductible
1098-E form to deduct interest you may have paid on any student loans
Receipts for child care, education, adoption, charitable donations, or any expenses you plan to deduct
Any letters from the IRS about your stimulus payment (Economic Impact Payment – if you received one in 2021) and the Child Tax Credit.
There may be other forms you'll need that aren't listed here. Check out the IRS military webpage for more information on other specific forms you could need.
How to File
You have several options to file your taxes. Filing online is the preferred method for many families. Electronic filing options include:
How to get Free Expert Help with Your Tax Return
If you have questions about completing your tax return online or need advice on any tricky tax issues while filing electronically, MilTax has tax consultants available who are trained to help with tax situations specific to service members and their families. Call 800-342-9647 (see OCONUS dialing instructions), or visit Military OneSource to chat live online.
Maybe this is the first time you're in charge of doing your family's taxes and you're worried about messing something up. Or maybe you're just generally unsure how to proceed, or you have a complex tax situation. In any case, it wouldn't hurt to contact a tax professional for assistance. When it comes to your taxes, there's no shame in having someone else crunch those numbers for you. We recommend:
Making an appointment at your installation tax center
Working with a trained professional on-site using the Volunteer Income Tax Assistance (VITA) program. They offer FREE, in-person tax preparation and assistance at locations worldwide. These tax professionals have extensive knowledge on topics like residency, relocation, filing extensions, and other issues that impact taxes for military families
Be aware that some of these will not be available to meet in person and will only offer virtual services this year.
Hiring a Tax Professional
You may also choose to pay for a professional to help you with your taxes. There are different types of tax preparation services, and fees can vary greatly from $150 to several thousand dollars. Often the best way to find a tax professional is through word of mouth—asking friends and family for a referral. Make sure you do your due diligence before hiring a tax professional: check their credentials, ask what experience they have with military clients and/or clients with your particular tax situation, how the fee is determined, who will be preparing your return and how your questions will be handled, and how any problems that might arise will be addressed. For more tips on tax professionals, see this article.
Dealing with the IRS can be frustrating at the best of times, so the more prepared you are, the better this tax season.