Supporting Beyond Month of the Military Child
By: MJ Boice, Staff Writer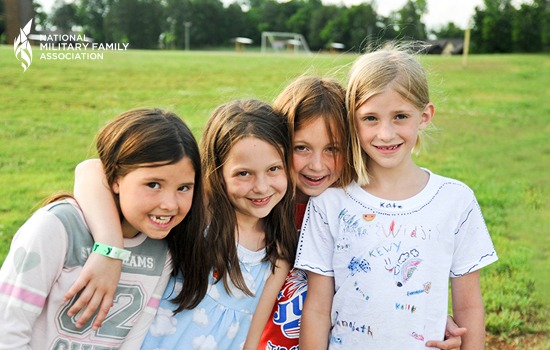 America's military, and the families who stand behind them, has changed. When NMFA began its journey in supporting military families, the majority of draftees were single. Today, almost 50% of service members are married, with nearly two million children in tow. As the nation's military evolved, military families began experiencing unprecedented levels of stress.
To help them cope, we created Operation Purple Camps (OPC), which focuses on bringing military children together to summer camps around the country for a free week of fun and excitement away from the stressors of military life.
Because at NMFA, we know Military Kids Serve Too!
Meredith Lozar, NMFA's Director of Youth Initiatives, was invited by the Association of the United States Army's headquarters in Arlington, Virginia, on April 28, to share her perspective on what NMFA has learned from hosting tens of thousands of military kids through our popular OP camps. NMFA's Youth Initiative Program Managers Natalie Mizell, Alex Insel and Navneet Prasad detailed those experiences as they each shared the stories of individual families they've heard from or observed over the years.
Alarming Impact of Stress on Military Kids
"One in three military-connected children show symptoms of anxiety," Lozar shared. "Which means they are 2.5 times more likely than their peers to struggle with anxiety. With statistics like these, military kids are in need of support now more than ever."
It's no secret that military kids have unique challenges. They change schools an average of nine time before they graduate, and most will say goodbye to more significant people in their childhood than others do in a lifetime. So it's only appropriate that there be unique solutions to help military kids cope with such extraordinary circumstances. That's where Operation Purple Camp comes in.
This free summer camp, offered to the children of eligible service members, is designed to alleviate some of the stresses associated with being a military kid. The camp's curriculum is structured to reduce feelings of isolation by providing kids the chance to meet other military kids in a fun-filled camp setting. They participate in activities to bolster their self-confidence, and take time to reflect on their service member parent.
This summer, OPC will serve nearly 1,700 military children nationwide. Since its inception in 2004, over 60,000 military kids and families have been impacted through NMFA's Operation Purple Program, which also includes Operation Purple Healing Adventures and Family Retreats—outdoor experiences designed for the whole family.
"Operation Purple Camp is designed, not only to build resiliency within military children, but to give them the chance to just be the amazing military kids that they are," Lozar reminded the AUSA audience. "As the Month of the Military Child comes to a close, we ask that you join us in supporting our nation's service members, spouses, and littlest heroes every day of the year."
Posted April 28, 2017