Suicide and the Military Family: Could Your Loved One be at Risk?
By: Ingrid Herrera-Yee, Manager, Military Spouse Mental Health Profession Pipeline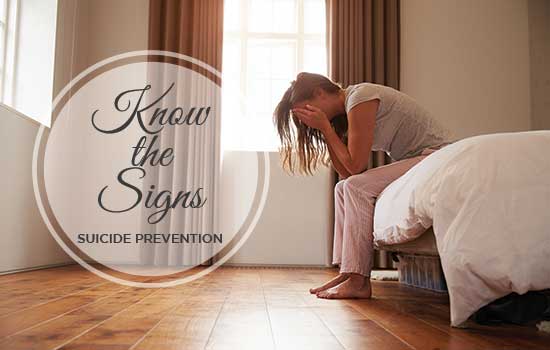 The statistics are sobering. Every day, an active duty service member takes his or her own life. Twenty veterans per day do the same. The Department of Defense (DoD) doesn't track suicides in military family members, but we know they happen far too often. But what can we do to make sure our loved one isn't next? This Suicide Prevention Awareness Month, we want to remind you to be keenly aware of the risk factors and warning signs. How would you know your loved one is struggling?
It begins by knowing the risk factors.
There's no single known cause for suicide. However these are the risk factors to look out for:
Mental illness, particularly if undiagnosed or untreated (Depression is a big one; for the military population PTSD is also a risk factor)
Family history of suicide or the suicide of a close friend or significant other
Previous suicide attempt(s)
Isolation, a feeling of being cut off from other people (lack of connectedness)
Prolonged stress factors which may include harassment, bullying, relationship problems, and unemployment
History of alcohol and substance abuse
Feelings of hopelessness
Impulsive or aggressive tendencies
Barriers to accessing mental health treatment
Loss (relational, social, work, or financial)
Physical illness
Easy access to lethal methods
Unwillingness to seek help because of the stigma attached to it
Risk factors are often confused with warning signs of suicide, but the two are very different. Warning signs indicate an immediate risk of suicide, whereas risk factors indicate someone is at heightened risk for suicide, but indicate little or nothing about immediate risk. So how would you know if someone was at imminent risk of suicide? Here are the warning signs…
If a person talks about:
Experiencing unbearable pain
If a person behaves in such a way that they are:
Increasing their personal use of alcohol or drugs
Looking for a way to kill themselves (searching for materials or means)
Withdrawing from activities
Isolating from family and friends
Sleeping too much or too little
Visiting or calling people to say goodbye
Giving away prized possessions
If a person displays one or more of the following moods:
If you think someone may be suicidal, look for a change in behavior. Most people who take their lives exhibit one or more warning signs, either through what they say or what they do. If someone tells you they wish that they were out of the picture, that they don't want to live, take it seriously. Don't leave them alone. Get them to safety and seek help—a counselor or chaplain. Often, those who complete suicide had at one point or another told someone of their plan.
Military families go through changes and stressors our civilian counterparts don't experience. Our nation's families watch out for one another when a service member is deployed, but often assume things are fine when they return. Suicidal thoughts and mental illness are common – and pose a greater risk to military families. Let's talk about suicide. Even if it's uncomfortable. Even if we don't want to. Our lives depend on it.
What can you do if you or a loved one is struggling with thoughts of suicide?
Call 800-273-8255; then press 1.
This Military Crisis Line, also called the Veterans Crisis Line, is a joint DoD and Department of Veterans Affairs initiative.
You can also chat online or send a text message (838255) to reach a crisis line responder. For more information, visit the Military Crisis Line website.
Posted September 8, 2016