Student Loan Debt? Here's What You Can Do About It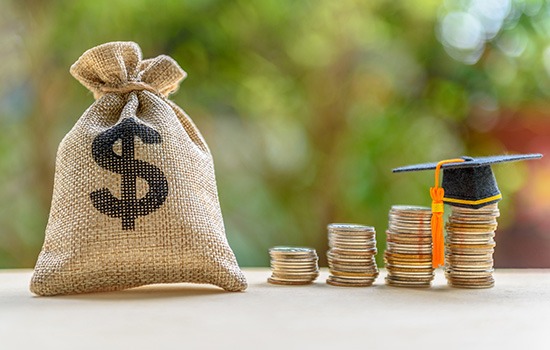 By: Mike Saunders, Director of Military and Consumer Policy for Veterans Education Success
If your family struggles with student loan debt, you're not alone. Hundreds of thousands of service members, veterans, and their families have student loans. But, most of us have no idea how much help is available to get those loans reduced or even eliminated entirely.
More than one-third of service members – and half of junior enlisted service members – have student loans. Even with their military education benefits, one-quarter of veterans using the Post-9/11 GI Bill have federal student loan debt when they graduate. Today, approximately 200,000 Active Duty members owe a collective $2.9 billion in student loan debt. And that doesn't even take into account the student loan debt accrued by military spouses and children.
But, there's good news: There are ways to lower student loan debt facing service members and military families. Here are the top reduction and repayment options available to service members, veterans, and military families.
Reduce Loans During Recruitment
The first opportunity your family has at reducing or eliminating student loan debt is when the service member joins the military. There are service-specific programs to help alleviate student loan debt before the service member joins the military.  If someone in your family is considering joining the military, be sure to ask the recruiter exactly what options are available. Eligibility for each program varies over time depending on service-specific needs.
Service-Specific Support
Each military Service has specific programs to help with student loans:
Rate Capping While Active or Deployed
Thanks to the Servicemembers Civil Relief Act (SCRA), no lender, private or federal, can charge more than a 6% interest rate while to an Active Duty service member or an activated Reservist or Guardsman. Additionally, if that service member is deployed to a hostile area, lenders must charge a 0% interest rate.
This rule is ironclad, protected by federal statute, and often overlooked by many service members. Don't be one of them. Make sure lenders aren't charging your service member more than 6% while on Active Duty.
Federal Perkins Loan? If your service member benefited from a Federal Perkins Loan and served in a hostile fire or imminent danger pay area for a period longer than a year, the service member qualifies for up to 50% loan forgiveness if that service ended before August 14, 2008, or up to 100% if that Active Duty service began on or after August 14, 2008.
Income-Based Repayment for Service Members, Veterans, and Family Members
Income-based repayment programs are available to any person with student loan debt and are great options for military spouses, family members, veterans, and as an additional support for service members.  The U.S. Department of Education has four programs to lower your monthly payments if the monthly payments are too burdensome at your income level. Only a small fraction of Americans apply to this program, and Veterans Education Success can help you with the paperwork.
Special Reduction Programs
Still other options exist for those who are 100% disabled or are employed in specific industries.
If you are 100% disabled or individually unemployable, the Department of Education is supposed to give you complete forgiveness of your loans. Veterans Education Success can work with you to ensure that happens.
If you are working in a public interest job at a nonprofit, government, or civilian military position then you may be eligible for loan forgiveness under the Public Service Loan Forgiveness Program.
If you teach for five consecutive years in a low-income school or educational service agency then you may have up to $17,500 in student loan debt forgiven.
Veterans Education Success is here to protect your family through the student loan repayment and reduction process. They even have lawyers to help you understand your rights and make sure your paperwork is done correctly. For more information, visit veteranseducationsuccess.org.
Mike Saunders is Director of Military and Consumer Policy for , a nonprofit organization serving veterans' educational needs.