New Initiative to Strengthen the Health of MilFams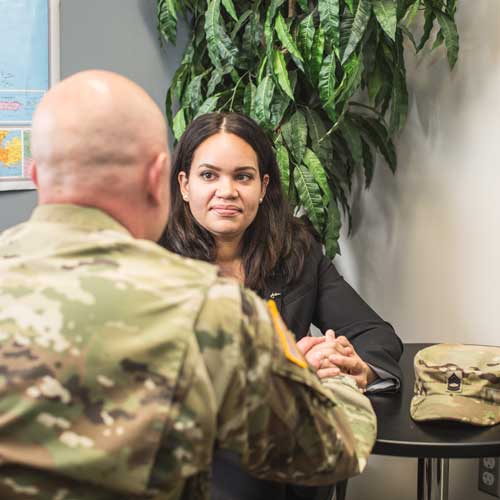 We have exciting news to share!
NMFA has teamed up with two other charity organizations to work on the serious issue of strengthening the mental health of military families.
At an event on Capitol Hill, NMFA, Give an Hour and United Health Foundation launched the Military Spouse Mental Health Profession Network. The Network will lessen the nationwide shortage of mental health providers, which is even more of a problem in the military community, by supporting professionals seeking licensure, funding for continuing education, and referring service members and their families to providers that have demonstrated cultural competence in the military community.
"We need to alleviate the national shortage of providers, and enhance the wellness of service members, veterans, and military families," said Executive Director Joyce Raezer. She kicked off the event by quoting military spouse mental health professionals who've struggled to enter the field because of the military family lifestyle.
"There's no real map. There's no way you know where you're going to be in 5 years," said panelist Rory Brosius, Deputy Director of the White House's Joining Forces initiative, and a military spouse herself. Brosius also happens to be a mental health professional, who went through 4 PCS moves during grad school and did clinical work in 3 different states.
Frequent moves and other stressors have led thousands of military spouses to NMFA's Scholarships + Professional Funds program for help reaching their goal of serving others in their communities.
"Military spouses come across obstacles. It's easy to give up. Having peer to peer mentoring helps," said Brosius.
That's where the Network comes in. Military spouses will find support as they pursue rewarding careers, despite the unique challenges they face transitioning from graduate school, through licensure, to meaningful employment.
With the shortage of mental health providers in both the civilian and military communities, the Network brings light to the importance of providers having "cultural competency." Something military spouses have in spades—a knowledge of the military lifestyle that those outside of the circle don't have.
"Not just sympathy, but empathy and understanding of culture," explained Rosemary Williams, Assistant Secretary for Public Affairs, Department of Veterans Affairs. She went on to talk about the importance of seeking mental health care—something that is often taboo within the military community.
"You can't survive or thrive as a military spouse without reaching out and being vulnerable," said Williams.
NMFA and its partners hope the Network will create a growing web of mental health providers to address the invisible wounds suffered by service members and family members during the last 15 years of war. With one military spouse entering the mental health field, thousands of others will be positively affected, even bridging the gap between civilian and military communities.
"The men and women trained in this pipeline will end up going into their communities and working, not only with military families, but also in schools, community centers, and with the elderly. Their passion and compassion will serve them well," said Barbara Van Dahlen, Founder and President of Give an Hour.
Today's event also welcomed support from Representatives Chris Gibson (R-19/NY) and Terri Sewell (D-7/AL).
"You are, by far, the most bi-partisan supported issue in Congress," said Representative Sewell.
"This is very personal," Representative Gibson added, whose wife is a licensed clinical social worker. "Not just from my time serving, but because my wife was with me through those tough combat years."
NMFA and Give an Hour, and United Health Foundation recognize the immense need for competent, driven, and healing mental health providers, and more military spouses are recognizing the impact they can have in their own communities. One military spouse scholarship applicant looking to enter the mental health field highlighted the need, saying, "The stronger the families that make up the military are, the stronger the military is."
Are you a military spouse mental health professional? Click here to learn more about the network and to join.
Posted May 25, 2016