Stop Cutting Costs at Service Members' Expense
By: Margarita Cambest, Staff Writer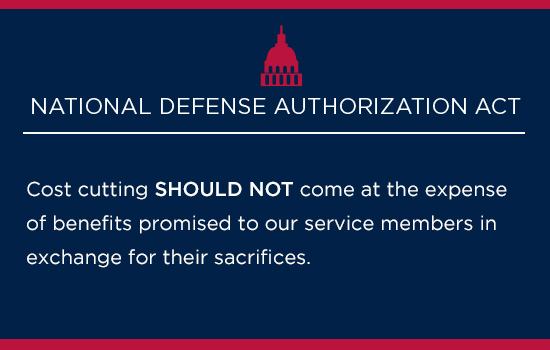 The National Defense Authorization Act (NDAA) sets funding guidelines for the Department of Defense (DoD) each year that directly impacts the lives of our service members and their families. Both the House and the Senate have passed their versions of the 2017 budget, and the legislation now moves into conference committee to hammer out the differences.
Last week, the National Military Family Association sent a letter to the Chairmen and Ranking Members of the House and Senate Armed Services Committees showing our support as well as expressing concerns for certain provisions.
In it, we have urged the Committee to stand with our military and their families as we do every year. NMFA discredits the idea that cost cutting should come at the expense of benefits promised to our service members in exchange for their sacrifices.
We know sifting through legislation can be time consuming, so we're breaking it down for you below.
Sequestration. We strongly oppose sequestration, and believe it needs to end. Balancing the budget at the expense of our service members and their families threatens the readiness of service members by creating uncertainty about whether services and programs families rely on and have been promised will be available when they need them.
Provide adequate compensation for service. We support a 2.1 percent pay raise equal to the Employment Cost Index (ECI), the current standard in statute, and urge the committee to not make this the fourth year in a row for a military pay increase less than the ECI. We strongly oppose slashing Basic Allowance for Housing (BAH) for dual-service couples and service members who choose to live with other service members. The proposed cuts unfairly penalize married service members, place an undue administrative burden on the Department of Defense (DoD) and discourage responsible financial choices.
Stand strong on survivor issues. We support providing equal benefits under the Survivor Benefit Plan (SBP) for survivors of reserve component members who die in the line of duty during inactive-duty training, but we must do more.
Our Association is seeking House and Senate support to find money, outside DoD, allowing multi-year increases in the Special Survivor Indemnity Allowance (SSIA) amounts. Congress originally expressed intent to continue increasing SSIA as a means of phasing out the unfair deduction of VA Dependency and Indemnity Compensation from SBP annuities. We believe funding appropriate survivor compensation is the government's responsibility, not that of military families.
Ensure oversight on changes to commissary policies and operations. We support Congressional oversight as the Defense Commissary Agency (DeCA) implements new policies and operations in which it has little expertise. Congress must ensure DoD/DeCA has the resources and expertise needed to implement changes effectively and without endangering the value of the commissary benefit.
Enhance the quality of life for military families. We support meeting the needs of 21st-century military families by providing flexibility for family and spouse relocation in advance of, or after, a service member's PCS reporting date as outlined in the Military Family Stability Act.
Support former spouses and our service members. We support directing the courts to use a service member's current pay grade and years of service when dividing property involving disposable retired pay.  However, as a matter of equity, the former spouse should benefit from increases in the pay table approved by Congress.
Click here to read our letter.
Posted July 21, 2016