Spouse Scholarships: Take Your Dreams Off Pause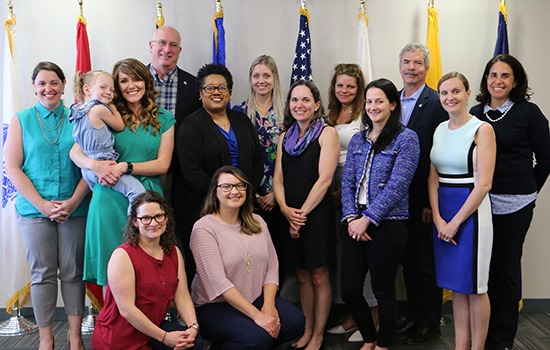 Every military spouse has a dream. And every dream requires a few believers.
Bianca dreamed of a career in journalism. But the road to making that dream a reality took nearly two decades with a lot of twists and turns through four duty stations. On Wednesday May 29th, she joined the National Military Family Association, seven other NMFA military spouse scholarship recipients, and Fisher House Foundation for a conversation about the struggles faced by military spouses pursuing their education and career goals. Fisher House Foundation is a national sponsor of our Spouse Scholarship and Employment program and has donated $1.8 million to the program since 2008.
Despite their differences – education and employment goals, service or rank of spouse, years married into the military – all eight recipients had two things in common: A dream and people willing to believe in it.
"As an enlisted family with three children to support, I struggled with adding any further to my family's debt," Bianca explained. As a Marine Corps spouse of 18 years, Bianca knew her dream needed real support and she got that in the form of an NMFA scholarship.
Christina, a Navy spouse and aspiring science illustrator, said being awarded the military spouse scholarship "legitimized my desire to pursue a unique job opportunity that will allow for portability when my husband changes duty stations." With her background in biology, Christina hopes to use her new certification to make complex scientific ideas more understandable through art while contributing to America's science IQ.
Dave Coker, President Fisher House Foundation, celebrated the achievements of Bianca, Christina, and all the other military spouses willing to hold on to their dreams. He honored them for their perseverance through moves, deployments and all the military life throws at them.
"You are the greatest recruiter of this program," Coker said. "Your story highlights the importance of the scholarship program."
Bianca, now an accomplished journalist, currently serves as Managing Editor for AmeriForces Media. "My advice to other spouses on pursuing their career/education would be to allow yourself to have this one thing for you," she reflected.
"Despite our roles as husband or wife, parent or volunteer or whatever hats to wear, we are as entitled to set and work toward goals as our very ambitious service members. You cannot sit by during a military career, watching your spouse achieve rank, promotion and accolades, while hitting the pause button on your dreams."
NMFA is grateful to the Fisher House Foundation and its dedication to investing in military spouses' education and employment goals. Its continued commitment of the National Military Family Association military spouse scholarship provides invaluable belief in and support of thousands of military spouses' dreams.
"There is literally not one good reason to put ourselves on hold any longer," Bianca concluded.
You can learn more about our program by visiting our spouse scholarship page.