Secretary of Defense Austin: Our Trust has been Betrayed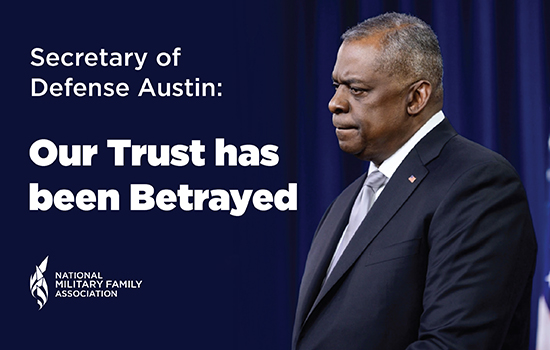 Military families have the right to a safe and healthy living environment, especially in installation housing where service members entrust the military with their families' health and well-being.
Sadly, this trust has been betrayed.
The contamination of the water supply serving the Aliamanu Military Reservation and other areas around Joint Base Pearl Harbor-Hickam has sickened dozens of service members and their families and raised questions about the long-term health implications for those exposed. The National Military Family Association has long been the leading voice on issues affecting the quality of life of service members and their families, and they continue to share their concerns with us about their health and safety now. We appreciate that the Department of Defense, the Army, and the Navy have acted to provide clean water to families in affected areas and have moved some families to hotels, but more needs to be done to support military families through this crisis.
First, families need clear answers about when the water supply became contaminated. Although the Navy acknowledged a leak from underground fuel tanks contaminated the Red Hill well in November, many families reported health issues in the months prior to the leak. There must be a thorough investigation to determine whether the contamination occurred before November. Families who were living in the affected areas during the spring and summer of 2021 must be notified and added to the registry tracking possible exposure, even if they moved away before November 2021.
Second, families need to know whether they are still risking exposure through household items that were washed in contaminated water. What should they do with clothing, dishware, toys and other items that they washed with tap water before the contamination issue was known? If the answer is to replace those items, what will be done to help military families shoulder that unreasonable expense?
Third, families need assurance that their long-term health needs will be taken care of by the Department of Defense, even after they leave the military. While little is known about the specific long-term effects of exposure to petrochemicals in water, the experience of families living in Flint, Michigan and at Camp LeJeune is proof that drinking unsafe water can have lifelong health impacts – especially in the case of babies and young children. Families deserve to know that the Department is prepared to support them through any health issues associated with exposure to contaminated water, whenever those problems arise.
Finally, it is past time to remove the underground fuel tanks beneath the Red Hill well. It is unreasonable and unrealistic to expect any military families to live in Hawaii privatized housing, knowing there is a risk of another fuel leak. The tanks also pose a threat to Honolulu's water supply, risking the health and well-being of the entire community. They must be removed.
Service members volunteer to put their lives on the line in order to defend our nation. However, they should not also have to accept threats to their families' health and well-being. The contamination of the Red Hill well was a terrible accident, but it was also a betrayal of military families' trust. We must act now to rectify the wrong that has been done to these families those families – and ensure nothing like this happens again.
The National Military Family Association is the leading nonprofit dedicated to serving the families who stand behind the uniform. Since 1969, NMFA has worked to strengthen and protect millions of families through its advocacy and programs. We provide spouse scholarships, camps for military kids, and retreats for families reconnecting after deployment and for the families of the wounded, ill, or injured. NMFA serves the families of the currently serving, retired, wounded or fallen members of the Army, Navy, Marine Corps, Air Force, Coast Guard, Space Force and Commissioned Corps of the USPHS and NOAA.