SCRA and Credit Card Benefits
By: Margarita Cambest, Staff Writer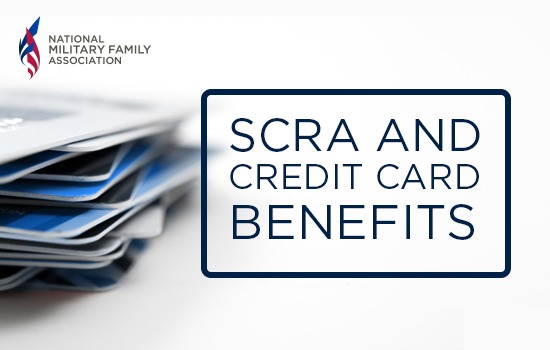 Did you know credit card companies will refund interest and fees paid on credit cards opened prior to going on active duty?
In 2003, Congress enacted the Servicemembers Civil Relief Act (SCRA), formerly known as the Soldiers' and Sailors' Civil Relief Act. The federal law provides a variety of financial protections for service members during periods of military service.
It's been updated a few times since then, but while many know the SCRA protects them when breaking a lease with military orders, they aren't aware of expansions to limit the interest rates that credit card companies can charge active duty service members.
SCRA applies to all members of the Uniformed Services: Army, Navy, Marine Corps, Air Force, Coast Guard, and the Commissioned Corps of the Public Health Service and the National Ocanic and Atmospheric Administration. It also covers reservists on federal active duty, members of the National Guard on federal orders for a period of more than 30 days, and service members absent from duty for a lawful cause or because of sickness, wounds, or leave are covered by the SCRA.
Under expanded provisions of the SCRA, anyone who falls into these categories can be charged no more than 6% per year, including most fees, on certain financial obligations that were incurred prior to military service. Credit cards, automobile, ATV, boat and other vehicle loans, mortgages, home equity loans and student loans all fall under the SCRA umbrella. SCRA interest rate reductions for pre-service mortgages also extend up to 1 year after active duty service.
Keep in mind creditors have a right to challenge an SCRA interest rate reduction if they believe your ability to repay at a higher interest rate isn't "materially affected" by your military service. Depending on your creditor, you may have more than one interest rate on your card – an SCRA rate of 6 percent or less for pre-service debt and another rate for any new purchases. SCRA doesn't require a creditor to extend a rate of 6 percent or less to debt accumulated while on active duty; however, your credit card company may have more generous benefits than the minimums outlined by SCRA. It's also important to know that once you have met your credit card obligation or end active service, the SCRA interest rate reduction goes away.
Have you received credit card benefits after calling about the SCRA? Has anyone gone above and beyond? Tell us in the comments.
Posted August 23, 2016