School Transition Roadblocks and Who's Fixing Them
By: Eileen Huck, Government Relations Deputy Director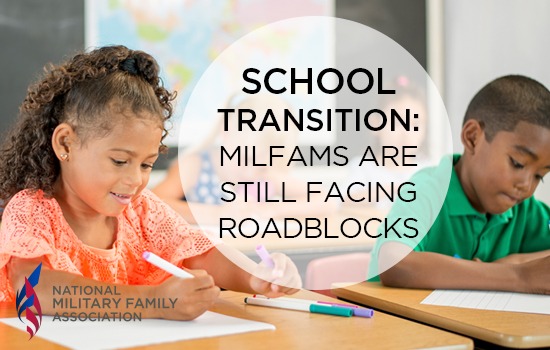 Do you have a school-aged child? A high schooler who's nearing graduation? Do you worry about problems your kids may face if they have to change schools due to a PCS move?
If you are a military family with kids in school, chances are you may have heard about the Interstate Compact, an agreement created to smooth the transition for military kids as they move between school districts and states. All 50 states and Washington D.C. are part of the Interstate Compact agreement.
A huge milestone for military families, the Interstate Compact eliminates many of the most common roadblocks families used to run into when moving to new schools. But even though the Compact is in force across the country, our work isn't done.
Too many school districts don't know about the Compact, or don't understand what issues it addresses. And too many military families still face problems when their kids are starting new schools.
Fixing some of those problems is the job of the Military Interstate Children's Compact Commission (MIC3), the organization responsible for implementing and promoting the Compact. Each member state and Washington, D.C. has a representative on the Commission. As a longtime supporter of the Compact and recognized voice for military families, NMFA is an ex-officio (non-voting) member of MIC3. We attend the Compact Commission's annual meeting to provide insight into issues affecting military families, and make sure those families' voices are heard.
Realistically, not every issue families may face is covered by the Compact. The Compact was carefully designed to address the most common problems connected to school transition, like kindergarten entrance age and high school graduation requirements.
But because the Compact is state law, changing it would require each state to change its law—running the risk that states may choose to pull out of the Compact altogether.
Even though not every problem can be addressed by the Compact, it's still important for Compact officials to know about them. They need to understand what military families are going through so they can look for ways to resolve problems outside the framework of the Compact.
For example, we hear from families who are having a tough time enrolling their children in school while they are in temporary housing. It's common for military families to live in temporary housing after a move as they look for a house or wait for installation housing. The problem arises when the temporary housing is not located in the same school district as the family's intended permanent home.
Some school districts are able to work with families and get kids enrolled before they move into their permanent home. Other districts are stricter about residency requirements. Families shouldn't have to send their kids to multiple schools over the course of one PCS move, or keep their kids out of school until they've moved into their permanent housing.
We also hear from families worried about long school absences due to a PCS move. Not every PCS move happens over the summer, and it can take more than a few days to travel to your next duty station. What should schools do when a new student arrives having missed weeks of class time? What if the student is a high schooler who needs credits to graduate?
NMFA recognizes the burden of PCS moves, and the unavoidable circumstances you face as a military family. We'll continue to be your voice at MIC3 meetings and work to ensure that commissioners and local schools work to create effective solutions to ease your family's school transitions.
What issues has your family faced when moving to a new school district? What do you think would make it easier? Share your stories in the comments and we'll take them to MIC3!
Posted November 7, 2016