Real Talk: Military Families, COVID-19, & The Road Ahead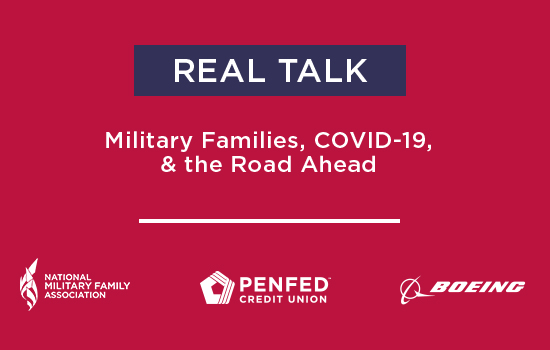 On October 28, NMFA hosted PenFed CEO, James Schenck and Boeing's Jason Pak for a virtual conversation on giving trends and the future of corporate-nonprofit relationships. Here are the six key takeaways you won't want to miss:
Corporations Give For a Reason
NMFA has a reputation for using donated dollars responsibly: we stand up for, support, and enhance the quality of life for every military family through bold advocacy, innovative programming, and dynamic and responsive solutions. Like other corporations that want to make a difference, PenFed and Boeing both exclusively work with partner organizations that are credible, good stewards of their support, and have strong ratings.
Issues Facing Military Families are Multi-Layered
Even before COVID-19, Military families faced a range of challenges related to employment, education, job training, childcare, and food insecurity. The COVID-19 pandemic has exacerbated and complicated these issues.
The Desire for Collaboration is Accelerating
Complex solutions require comprehensive and creative approaches. Corporate donors increasingly expect their non-profit partners to collaborate with them in a shared mission.
Companies Seek to Achieve Greater Good & Better Business
Helping military families and doing better business are not mutually exclusive. Increasingly, companies hope to advance business objectives with their support of military causes. This can include workforce development, employee satisfaction, and building brand equity.
Think Partnership, Not Sponsorship
Companies seek sustained partnerships, not one-and-done donations. This new model is good news for everyone: partnerships go beyond philanthropy to include employee engagement, shared expertise and technology, advocacy and communication support, and expertise collaboration as elements of a true and productive partnership.
Focus on Outcomes, Not Just Outputs
Sophisticated donors expect, want, and will reward non-profit partners that are able to demonstrate tangible and sustained impact. This requires going beyond simply measuring outputs; it necessitates a focus on real outcomes.