Purple Up to Step Up: 46 Ways Kids Can Help Others During COVID-19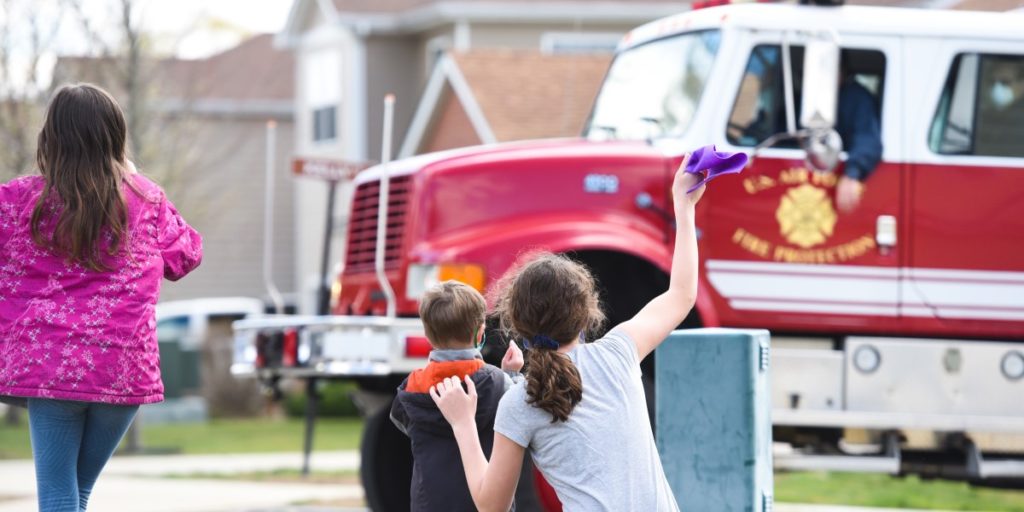 In any other year, April would be the annual opportunity to celebrate the military-connected children around the globe. It would be a time to adorn our school hallways with purple, signaling appreciation for the sacrifices our children make being a part of a military family. April would also be a time to highlight the unique challenges and lifestyle our children live. From deployments to frequent moves – April has always been a month shining a spotlight on the challenges our kids are faced with when their parents serve our country during conflict.
But it's not the same this year.
This year, April is the month the United States has experienced the full brunt of a worldwide pandemic of COVID-19 virus. Our schools are shuttered, our community streets are empty, our neighbors are feeling the effects of closed businesses and massive job losses. April is the month our military families are still quarantined in their houses overseas, supplies slowly making their way to military installations and seeing empty shelves are more the norm than not. Our families are faced with a delayed PCS – Stop Movement order from the Department of Defense effective through May and possibly beyond, and veterans are being asked to come back to military service to help hot spot cities around the country.
This year is different, very different. When our nation has been attacked, hurting and vulnerable, our military has always answered the call to protect and serve. Military kids were born to those same Soldiers, Sailors, Airmen, Marines, and Coasties who volunteered their lives for our country. They were born to serve. Unemployment and isolation are the aftershocks to the COVID-19 crisis.
Our kids need to look to help others in our community through this once in a lifetime crisis – it's what our families are called to do. Instead of a month of Purple Up celebrations, we try a month of Purple Up to Step Up. Our country needs all of us to look outside of our homes to help our neighbor. The neighbor who lost his job, the child who is medically fragile and can't go outside, the senior in a nursing home that can't have visitors and the families of the deployed who had their homecomings delayed and support system evaporated through social distancing. A small act of service and kindness can make a difference in the communities we live in.
The need is real.
We are living in extraordinary times and it calls for extraordinary measures. Let's encourage a month for our kids step up like their parents do, help those who need it the most, protect and uplift the vulnerable by acts of kindness and service. Do it wearing purple, write in purple, embrace purple as our kids do great things for others.
Next year, we can happily return to the traditional celebrations adorning purple to say thank you to the kids whose parents serve in uniform. But this year, it's time to come together and help those who need it. Below is a list of ideas to step up and give back. Add your own, do a little or do a lot. Give a nod back to military-connected kids by adding purple to whatever you do. It's our signature, if not the color of the armor that bonds all military-connected kids.
Before you begin: 
Be vigilant in washing hands thoroughly before handling and shipping anything to other people outside your family – especially to seniors.  
The virus can potentially stay on paper products up to three days. 
Social distancing is MUST. Follow all local, state and military installation guidelines.
Do not do send or handle anything if you or a family member isn't feeling well or has any symptoms of the COVID-19
Any week can be a combination of themes. Do what fits your family.
Remember to incorporate the color purple in your activity. 
Join us at Seasons of My Military Student K-12 Parent & Teachers Facebook Group for more information about military-connected kids in education and other "Step Up" activities. 
Week 1: Operation Senior Salute
Write letters to local Veterans homes or nursing homes from military kids. Share jokes, bright colorful pictures or positive notes letting them know they are not alone
Start a pen pal with a senior
Check in with grandparents. Have a virtual dinner party with them or play a board game with them over screen. It can be done!
Drop off surprise packages of needed groceries, puzzles, dog/cat food to seniors in your community
Donate gift cards from grocery stores to seniors
Offer to go to the store or run errands for a senior nearby
Drop off stamps, note cards and pens so seniors can reach out to family and neighbors
Start a penpal group
Make a homemade face mask for senior
Week 2: Operation Deployed Not Forgotten
Celebrate your military pride! Wear your military branch colors or purple and t-shirts especially on school virtual meetings and zoom calls.
Adopt a military family with a deployed service member
Mow their grass
Drop off groceries
Leave games for their kids to play
Make a meal
FaceTime to play games
Watch a movie together on Netflix
Invite them outside for a social distancing picnic
Go on bike ride with their kids
Run errands for them.
Ask how you can help
Send deployed care packages
Send encouraging notes to deployed families
Reach out to your FRG's, Key Spouses, Ombudsman or base/post leadership to see if there is a need such as groceries for families, aid programs or meals to make
Don't forget to incorporate the color purple into everything you do
Note: Try to incorporate this week into each month for the duration of deployment.  They still need their village after April. Also, think of those who might be stuck in mid-PCS moves who are in TLF or living on stick furniture.
Week 3: Operation Nice Neighbor
Select a neighbor(s) to lift their spirits
Deliver a surprise "pick me up" to them every day
From gift cards, nice notes, flowers, games or extra rolls of toilet paper  – spread the kindness and cheer
Chalk up their walkway with nice saying, happy pictures and colorful drawing
Rake a few leaves, plant some flowers or clean up around their house
Reach out to a classmate you haven't seen since school. Ask how they are doing. Reach out to a student with disabilities, too. Connect with a game online, messaging or video chat. Stay connected to someone new
Make a homemade facemask for your neighbor
Week 4: Operation Give and Thanks
Drop off extra food to a local food bank
Paint river rocks purple and write positive words on them. Hide them in plain sight around your neighborhood and walking trails
Make a video or video of kids/students thanking teachers for their dedication
Chalk Your Walk – chalk up your trails, sidewalks and bike paths with encouraging notes
Order takeout from local restaurants, buy someone's meal or tip a service worker
Make a homemade facemask for service or government workers
Leave drinks and packaged snacks or tips for post office workers, Amazon delivery and UPS workers
Buy meals for local hospital workers, nurses and staff
Send notes of thanks and encouragement to hospitals, doctor's offices, local health department workers
Send notes of thanks for local journalists and news anchors who cover the news daily
Send notes of thanks and tips to grocery store employees
Send notes of thanks and gift cards to local police and fire, EMS
Send notes of thanks to garbage disposal and utilities workers
Send a note of thanks to local pharmacy staff
Wrap it Up! Tell us what you did and how it made you feel. Did you make a difference? What did you like doing to most? Share it!
Stacy Allsbrook-Huisman is an Air Force spouse, writer, mother and advocate within the military spouse community. As a former Parent-to-Parent trainer for the Military Child Education Coalition, she led workshops and seminars on many topics related to the education of military-connected students. She is the coauthor with Dr. Amanda Trimillos of Seasons of My Military Student: Practical Ideas for Parents and Teachers (Elva Resa, 2018). She offers professional development on military-connected students and education transition to schools, parent groups and military support agencies.