PTSD Awareness: "Either Your Family Implodes, Or You Do"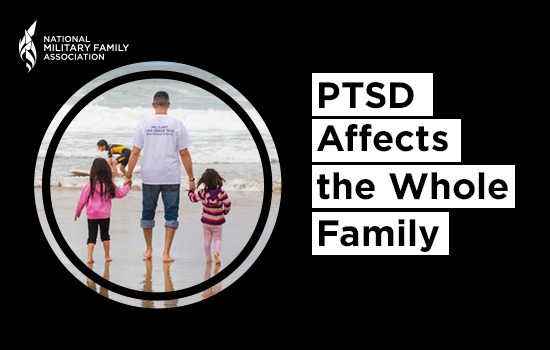 Today is Post-Traumatic Stress Disorder (PTSD) Awareness Day. Studies show 20% of military members who've served in Iraq and Afghanistan have PTSD.
Paul is one of them.
"Post-Traumatic Stress Disorder has affected my family profoundly. It has affected me profoundly. The overwhelming feeling of anger just takes over. It's hard to explain, it's like I'm not myself."
An Army veteran, who's served five combat tours overseas, he's only recently reached out for help to overcome the struggles he's faced since he's been home from his last deployment.
"My family has been the constant in my life," he explains. "They have been supportive. I tried. I tried to return that to them. But I had such a hard time feeling anything except irritated. No matter what, I would become irritated with them. But afterwards, I would realize just how much I have affected them."
PTSD and mental health issues don't just affect the service member. It can affect all members of the military family.
And 50% of those with PTSD do not seek treatment. Some don't recognize the signs and symptoms; others refuse help because of perceived retaliation at work. Even still, some do seek treatment, but don't follow through because their civilian mental health provider lacks the cultural awareness of what military life—and deployment—is really like.
Paul recalls his life before he started counseling, "Once I got out of the military, I could no longer find meaning in my life. I felt like a square peg in a round hole. I felt miserable, daily. This trickled down into my family life. I was emotionally abusive, I just didn't know it at the time."
Without mental health providers who have relevant military understanding, military families continue to suffer with mental health issues, even beyond PTSD.
For service members battling invisible wounds—like PTSD and traumatic brain injuries—programs like NMFA's Operation Purple Healing Adventures camp gives military families the chance to spend time away from the hustle and bustle of doctor's appointments and stress at home, and reconnect with their 'new normal' after injury. And all of it happens in beautiful, rustic, camp-style locations.
Without backing from his family, along with the resources available to him, Paul wouldn't have received the mental health care he needed.
"My family means the world to me, and if I hadn't gotten help, what would have become of me?" he shared. "What would have been of them? I think of my fellow soldiers–my brothers in arms. I see their pain. I see their marriages falling apart. I see their kids suffering. I see me in them."
The battle doesn't end when the service member comes home from deployment.
"There's only two options if you don't get help," Paul said. "Either your family implodes, or you do."
Our nation's military families deserve exceptional, on-going, and accessible mental health care–even in their darkest days. If you are battling PTSD and are unsure how to continue on, please reach out and ask for help.
Posted June 27, 2018