Proud Partners Since 2007
The National Military Family Association and Wounded Warrior Project® have been proud partners in strengthening, supporting, and empowering military and veteran families since 2007. Together, our enduring partnership fills gaps to give America's service members and their families access to resources, programs, and connection that inspire them to live their best life during their military service, or through military-connected injuries and the recovery that follows.
No matter where you are, or what's happening in our world, NMFA and Wounded Warrior Project has your back.
We'll go #FurtherTogether because together we're stronger.
About Wounded Warrior Project
Wounded Warrior Project is transforming the way America's injured veterans are empowered, employed, and engaged in our communities. Since 2003, we've been tireless advocates for our nation's finest, improving the lives of millions of warriors and their families. Warriors never pay a penny for our programs – because they paid their dues on the battlefield. Our free services in mental health, career counseling, and long-term rehabilitative care change lives. We're committed to helping injured veterans achieve their highest ambitions. When they're ready to start their next mission, we stand ready to serve.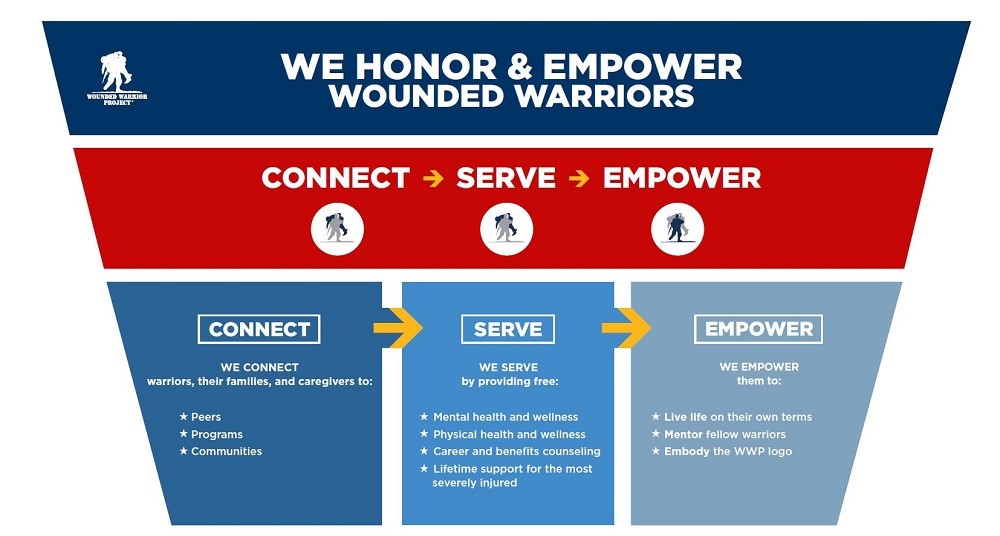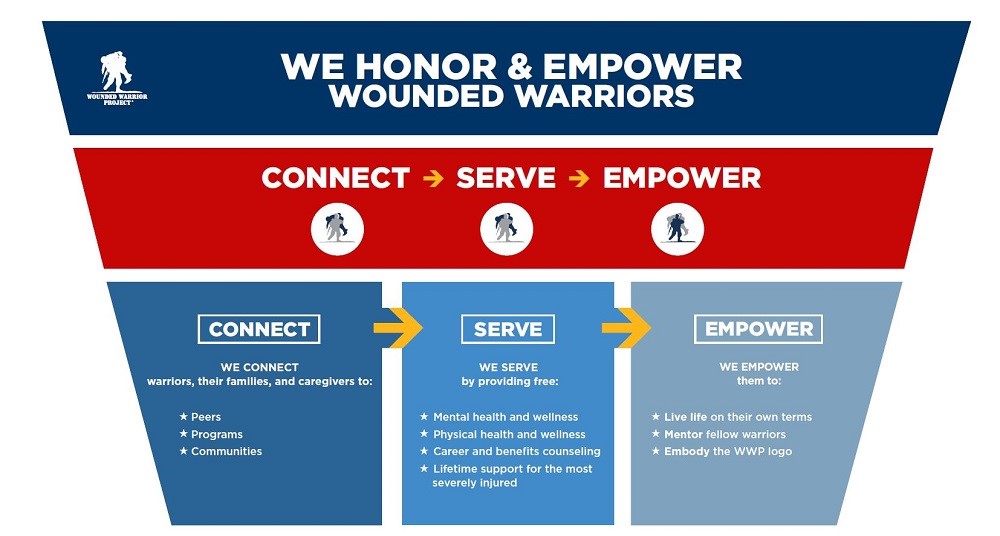 Wounded Warrior Project serves warriors through programs that assist them with mental health, financial wellness, independence, and connecting them with supportive communities. We have invested more than $1.3 billion into programs and services provided free of charge to injured veterans, their families, and caregivers.
Our programs and services are based on five distinct organizational pillars:
Mental health and wellness
Career and Department of Veterans Affairs (VA) benefits counseling
Physical health and wellness
Personal independence of the most severely injured
Social connection and engagement
Managing your Department of Veterans Affairs (VA) or Department of Defense (DoD) benefits claims
Learning more about one-time emergency financial assistance
Connecting with a Warriors to Work® teammate for job placement, resume writing, or interview skills
Connecting warriors and family members to a WWP team member, through our WWP Talk program, for weekly emotional support phone calls to improve their mental health and well-being.
Sometimes the most painful injuries aren't physical. Whether it's PTSD, TBI, combat stress, or any other mental health condition, the Combat Stress Recovery Program is here to help you get through it.
Delivering clinical care with four world-renowned academic medical centers. Through Warrior Care Network, WWP provides more than 70 hours of individualized mental health care through a 2- to 3-week program. Through this program, warriors develop the skills to cope with and work through symptoms of post-traumatic stress.
Focusing on physical health and wellness. WWP is here to help you discover what "better" means for you, through coaching, skill-building, and physical training.
Helping warriors suffering from moderate-to-severe brain injury, spinal cord injury, or neurological conditions, take positive steps towards independent living. Through our Independence Program, we work as a team with each warrior, their family, and caregivers to set goals and build an individualized plan.
Finding ways to get involved with WWP, the local community, and other warriors, family members, and caregivers
Don't see what you're looking for? Please contact the WWP Resource Center and we'll connect you with what you need.
Resource Center
888.997.2586
HOURS OF OPERATION
Monday – Friday 9 am – 9 pm ET
resourcecenter@woundedwarriorproject.org
If we don't offer the program or service you need, we still want to help. Tell us what you're going through and we'll refer you to the right organization.
WWP connect you to things like:
Legal services
Marriage and family counseling
Help acquiring a service dog