Attention Applicants
If you applied for a Child Care Reimbursement:
You will only receive a notification email if you are selected to receive an award.
Financial Relief for Child Care Costs
Access to quality child care is a long-standing issue for military families, now worsened by the pandemic. If your military family depends on child care so you can go to work, work from home, or work on your education, we want to help by providing your family with cost reimbursements.
NMFA is awarding reimbursements up to $1,500 to eligible families.
Application window is currently closed. Sign up to receive updates on future fee relief opportunities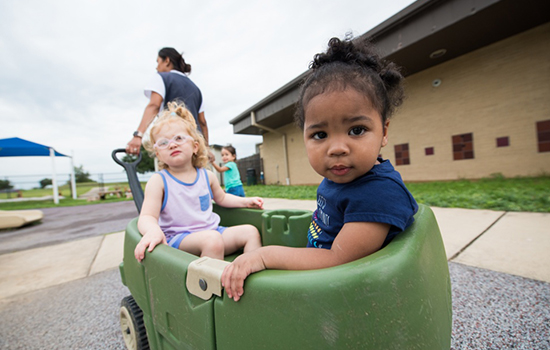 Eligible families are those:
On active duty, activated reserves, or National Guard on active Title 10 or Title 32 orders for six months or longer
In pay grades E1 – E6
With children ages 13 and under

Single service members, dual service members or service members with a spouse who is employed (minimum 15 hours per week) or currently pursuing a degree (minimum 6 credit hours) or professional pursuit (licensure or certification — minimum 15 hours per week)
Relief Funds Can Be Used For:
Before or after school care
Child care at a day/child care center, nursery school, or by a private sitter
Day/summer/holiday camps, including registration fees
Late pick-up fees
Private caregiver of an Exceptional Family Member
Relief Funds Can NOT Be Used For:
Overnight camps
Child care to attend private events
Child care to attend personal events
Late payment fees
Tuition for kindergarten
Tuition for grade schools
Application Process
If you're new to NMFA, you'll need to create a new account.
Fill out the online application
Tell us your circumstance and how this award will impact your family
NMFA will review the applications
Recipients were notified by December 15, 2021
If your family is selected, you'll be required to provide confirmation of military service, child care receipts, proof of employment, and/or verification of school enrollment, depending on your situation.