Professional Funding: Certifications + Licensing Scholarships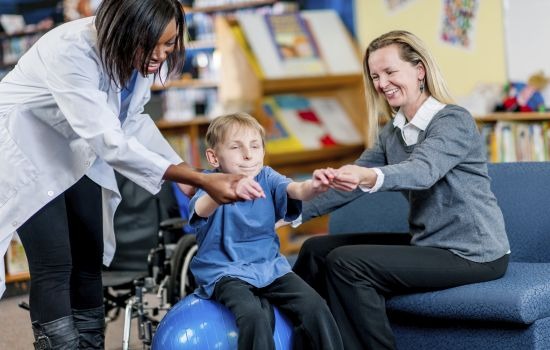 When you hear the word scholarship, you probably think about money awarded to help pay for a college degree. At the National Military Family Association, we know that education is far more than just a college degree. And scholarships should cover far more, too.
Military spouses are pursuing education and career goals ranging from G.E.D.'s to Ph.D's, and everything in between. As vast as a military spouse's dreams can be, they often come with financial obligations that can be overwhelming. Fortunately, there's a way for military spouses to continue striving for bigger and better educations and careers without the stress of wondering how they'll pay for it.
Because of the National Military Family Association military spouse scholarships, we've provided $3.3 million in funds to deserving spouses since 2004. Our scholarships can be used to cover professional funding, like certification programs and professional certifications and licensures. As part of our 2016 scholarship application, we asked spouses how they would use the scholarship if they received one; 10% say they'd use the funding for professional funding.
Over the last decade, nontraditional education has been on the rise, with certification programs generating popularity.
"Professional certifications and short-term certificate programs allow students to add specific skills and specializations to their resume for a fraction of the time and tuition," one article from US News explains.
With frequent moves, unfinished degree programs, and gaps in employment, military spouses have learned to be resourceful when it comes to earning income for their families. Most are aware of certification programs and the career benefits they provide, especially in such a mobile lifestyle. According to the National Center for Education Statistics (NCES), in 2010–11, U.S. schools awarded more than 1 million certificates—more than the number of Associate's, Master's, or Doctoral degrees. About 1.7 million Bachelor's degrees were awarded in that same year.
NMFA has teamed with a group of partners that understand certification is an excellent option for military spouses pursing education and employment. Some of these awesome partners include:
The FINRA Foundation Military Spouse Fellowship program provides military spouses the opportunity to earn the Accredited Financial Counselor® (AFC®) certification. The fellowship covers the costs associated with completing the AFC® certification program.
NMFA military spouses can receive up to $2,500 toward the cost of becoming a certified real estate professional through Berkshire Hathaway HomeServices PenFed Realty's new Real Heroes program.
Career Step, an online provider of career-focused education, is offering one full-tuition scholarship for any Career Step career certificate program.
World Education is a provider of online workforce training programs for the military community.  World Education will issue 10 partial scholarships and one full scholarship for qualified military spouses.
The Major Group offers a scholarship to the spouses of active duty United States service members of all branches. Winner will receive 100% tuition assistance for an eligible Certification Program offered through The Major Group plus the cost of the certification exam for chosen program.
Register with NMFA (it's FREE!) to explore more scholarship opportunities!
Comment and tell us how certification has helped you in your career.
Posted April 18, 2016