Pearl Harbor Through the Eyes of the Military Family
By: MJ Boice, Staff Writer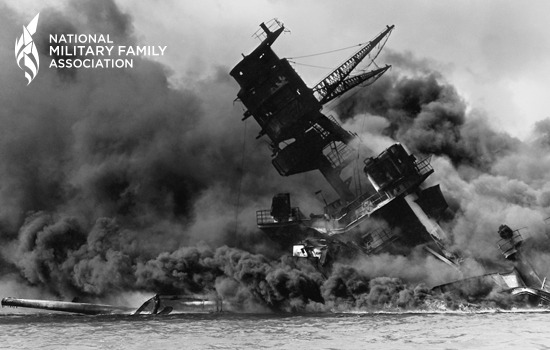 Imagine waking one morning to the ground shaking your home on base. Imagine grabbing your children and frantically running to escape the gunfire pelting the ground at your feet. Imagine watching your neighbors, fellow military families, being shot in front of you as they hang their laundry. Imagine your sense of security vanishing instantly.
While it might be difficult for you to imagine this scene happening today, it was an unfortunate reality for the military families of Pearl Harbor on December 7, 1941.
The attack on Pearl Harbor killed over 2,300 people—nearly half aboard the USS Arizona—and injured over 1,100. Families who lived on other installations, like the Army's Schofield Barracks, were evacuated and moved into temporary military housing.  While death permeated the island, the Army attempted to restore some sense of normalcy by opening schools and installing make-shift playgrounds for the families. Yet at night, mandated curfews were enacted for everyone. Every window was blacked out; for if light were to escape the home, it would become a target for attack.
America's military fleet wasn't the only one attacked in the Pacific that day. The military families of Pearl Harbor faced a harsh reality of freedom taken, while they looked war in the face. Join us today as we remember those heroes and families affected by the attacks on Pearl Harbor.
While much has changed in the 76 years since that infamous day, much remains the same. With over 300,000 troops deployed worldwide, our military families are still enduring each and every day. They are still mourning losses, their sense of security is still tested, and uncertainty is just as prevalent as it was on that infamous day in 1941.
Posted December 7, 2017