PCSing Overseas? New DoD Screening Process Hits Select Installations
By: MJ Boice, Staff Writer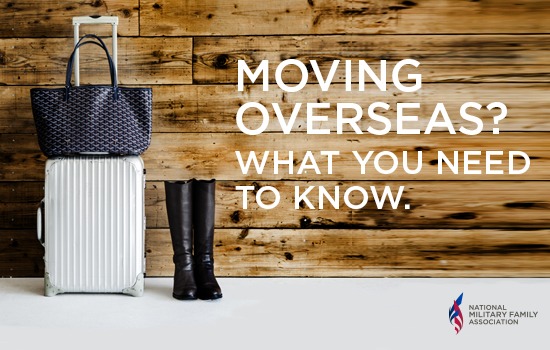 Going Overseas? Families moving overseas for military orders will soon have another screening process to add to their list of things to do. The new process is called the Family Member Travel Screening (FMTS), and is currently being piloted at select installations in the United States and overseas. It's designed to determine whether a military family's needs are being met at current and future duty stations.
So what's different about the FMTS? The paperwork.
In the past, when a service member with dependents received orders overseas, the family would have to complete (what seems like) an obscene amount of paperwork just to make the move. Luckily, the forms have decreased from 11 pages to five pages, and include medical, dental, and education information, an administrative checklist, and screening verification. These forms are also used when determining whether a family member meets the criteria to be placed in the Exceptional Family Member Program (EFMP).
Eventually, when out of the testing phase, all families moving overseas on military orders will have to participate in the overseas screening assessment. Though assessment forms have always varied across the service branches, the goal of this pilot is to standardize them across the entire Department of Defense (DoD)—an improvement EFMP families have been looking for to eliminate delays and improve continuity of care when moving from one installation to another.
The FMTS pilot began on January 30th and will continue for 90 days before being evaluated. If your service member receives orders to participating installations in Germany and Japan, and is currently stationed at one of these locations, your family may take part in the FMTS pilot process:
Air Force: Joint Base Lewis-McChord, Washington State
Army: Fort Carson, Colorado; Fort Jackson, South Carolina; Joint Base Lewis-McChord, Washington
Navy or Marine Corps: Naval Medical Center Portsmouth, Virginia; Naval Training Center San Diego, California; Naval Hospital Camp Pendleton, California
For more information regarding the FMTS pilot or to find out if your family will be participating in the new process, contact your local FMTS office for more information.
Have you participated in the new FMTS pilot? We'd love to hear your thoughts!
Posted May 17, 2017