Paying for College: What are the Options for Military Families?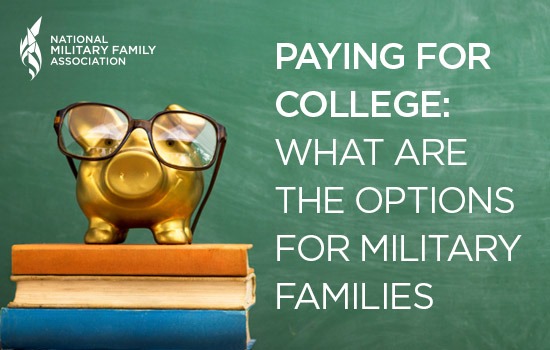 Paying for College: What Military Families Need to Know:
It's the moment every high school senior waits for: the arrival of that fat envelope from a college or university letting them know they've been accepted. For parents, however, that magic moment comes with mixed emotions. Happy, proud, excited – and terrified. Hooray, Junior is going to college. Now how are we going to pay for it?
While college is almost always going to come with a hefty price tag, luckily there are policies in place to lessen the burden for military families. Read on to learn more about what military families can do to make college more affordable.
Qualifying for in-state tuition
Years ago, it was difficult for many military families to qualify for in-state tuition, which is usually far cheaper than out-of-state rates. Frequent military-ordered moves meant families were rarely in one place long enough to meet state residency requirements. That changed in 2008 with the passage of the Higher Education Opportunity Act. That law, which went into effect in 2009, states dependents of service members who are on active duty for at least 30 days must be granted in-state tuition status in the state where the service member lives or is permanently stationed. Eligibility for in-state tuition cannot be revoked even if the service member's status changes or they are reassigned to another state.
But this law only applies to dependents of currently serving military members. Families of veterans and retirees are not covered by this law.
Using Post-9/11 GI Bill benefits
One of the most valuable benefits for military families planning for college is the Post-9/11 GI Bill. The GI Bill provides service members with up to 36 months of education benefits, some or all of which can be transferred to spouses or children. The benefit includes tuition at your in-state rate, a housing stipend, and an allowance for books. Some schools participate in the Yellow Ribbon program, which can help offset the difference between tuition costs and what the Post-9/11 GI Bill will cover.
Transferring Post-9/11 GI Bill benefits to spouses or children is a great option for many military families. However, there are restrictions that families should be aware of:
Transfer requests can only be made while the service member is in the military (not after separation or retirement);
In order to transfer benefits, service members must have served at least six years and agree to an additional four years of service;
Spouses may begin to use the transferred benefit immediately. Benefits transferred to spouses must be used within 15 years of the service member leaving the military. Spouses of currently serving military members are not eligible for the housing stipend or the Yellow Ribbon program.
Children cannot begin using transferred benefits until the service member has reached ten years of service. They are only eligible for the benefit until reaching age 26.
In-state tuition and the Post-9/11 GI Bill
Many military families were excited in 2014 when a law was passed requiring public colleges and universities to grant in-state tuition status to covered individuals using Post-9/11 GI Bill benefits. This law, known as the Choice Act, will make college more affordable for many veterans and their families. However, it's important for military families to understand this provision does not apply to everyone. Specifically, the law only applies to veterans and families using Post-9/11 GI Bill benefits within three years of the service member leaving the military. Families of active duty and those who separated or retired more than three years before using the benefit are not covered by this law.
Have you sent your military kid off to college? What resources did you use to help pay for it? Share your tips and stories below. 
Posted June 2, 2016