Operation Purple Chronicles: Military Kids Serve, Too
By: Margarita Cambest, Staff Writer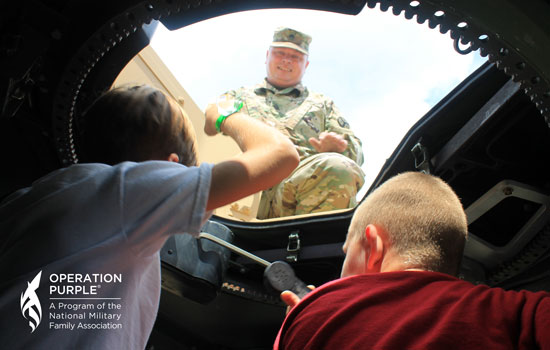 "How have you guys served?"
That was the question asked to a group of Operation Purple® Camp kids in Nashville, Tennessee.
Familiar with deployments, trainings and reintegration, about 100 military kids of all ages, genders and races gathered in the dining hall of Camp Widjiwagan to listen to National Guard Cpt. Tiffany Vaughan and Staff Sgt. Tre Trotter. Although different, everyone in the room shared one big thing in common—the bond of their family's military service.
Army values, Vaughan explained, can be defined by LDRSHIP. The acronym (something else the kids are familiar with) stands for Loyalty, Duty, Respect, Selfless service, Honor, Integrity and Personal courage.
Campers shared their examples of Army values, recalling sacrifices they've made to support their parents. Vaughan said it's not just the service members who serve, but their families, too.
One camper said he'd moved way too often, another said it was confusing to restart routines when his Dad returns and another lost his father to combat.
"They're a great diverse group with so many different experiences," Vaughan said.
In addition to guest speakers, Nashville's campers had a chance to check out military vehicles brought to camp just for them to see.
Staff Sgt. Ed Simmons and Staff Sgt. Cuthbert Burton drove up to camp with an M1151 gun truck from a nearby National Guard unit. Guns removed and safety brake engaged, campers took turns checking out the inside and asking questions about the truck's safety and specs.
In case you ever wanted to know—this particular truck was a training vehicle, but its 300-pound doors will be replaced before heading into combat making the $153,000 vehicle fully bulletproof and even able to run with flat tires.
Later in the week, the kids signed cards for deployed service members, as well as each other's Operation Purple T-shirts as souvenirs of the weeklong camp experience.
When it comes to answering the question, "How have you served?" SSgt Trotter knew the answer. "It's humbling to be around these kids. I can't even imagine moving seven times as a kid. It really shows you how strong they are."
Did your military kid attend an Operation Purple Camp? We'd love to hear their favorite part! Share it with us in the comments!
Special thanks to Wounded Warrior Project for making it possible for military kids to attend our OPC camps
Posted August 9, 2016