Operation Purple Chronicles: Sophia's Story
By: Margarita Cambest, Staff Writer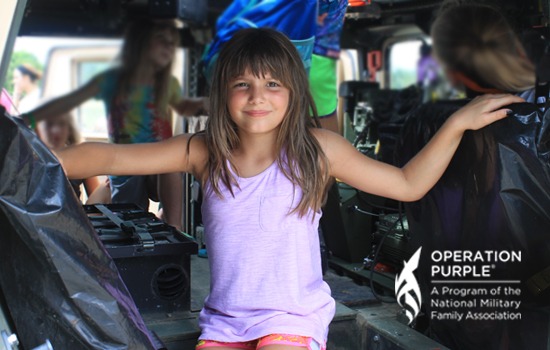 "She's already made two or three meals since she's been home," Sophia's mom Shelene says. "She wants to make me guacamole, and she made a stool that she sits on."Nine-year-old Sophia came back from Operation Purple® Camp in Nashville with a few lessons for her family.
And although Mom was apprehensive at first about sending her daughter to sleepaway camp for seven whole days, when she heard NMFA's summer enrichment program was fully vetted by her friends, and that at least eight other friends were going, she was sold. It didn't hurt that the National Military Family Association funds the week of summer camp specifically for military kids.
After a week at camp, it was also clear everyone there just got it.
"Next year, Sophia will be going to an off-post school, so she won't have that tight-knit military community," she said of life at nearby Fort Campbell. "She may be the only military kid in her class or surrounded by people who don't understand what she goes through."
Military Family Life Counselors (MFLC) are on hand at Operation Purple Camps to help counsel children going through deployments or having a hard time with military life in general. They offer someone outside of the family to talk to when times are tough. Daily military-related activities are also a part of all Operation Purple programming. That experience, combined with counselors who absolutely love what they do, makes for a phenomenal week.
Shelene says Sophia hasn't had any complaints since she's been back. Although after a week of scheduled boat rides, lake swimming and woodworking, she was pretty exhausted on pickup day.
"The counselors and the quality of the staff blew me away with how much they cared about the kids and how well they supervised and supported them."
Now that camp is over, the lessons continue back at home. Of the 17 other girls in Sophia's cabin, the few that were from Fort Campbell didn't know each other before, but left as friends.
"We can be kind of isolated in our bubble, but she's got four new friends at four different playgrounds around post. This camp helped her make some really great friendships she might not have been able to (make) before."
Your donations help our Association support military family experiences like this one. Find out more about how you can help.
Special thanks to Wounded Warrior Project for making it possible for military kids to attend our OPC camps.
Posted August 5, 2016