Operation Purple Camp Chronicles: Avery's Story
Avery's dad joined the Navy a few years ago after finding out that the family was expecting Avery's little brother. His dad had been a bellman in a New York City building for a while, so enlisting to serve the nation was a big change for everyone.
When the 9-year old found out he was selected to attend an Operation Purple Camp in Keystone Heights, Florida, he said he was excited and nervous.
"I've never been to camp before, but it's been a great, new experience," he says. "I tried tubing on the lake, and I'm doing the ropes course later today. I'm SO excited for that!"
When Avery's dad joined the military, his family moved from New York to Virginia and then to Florida. Even though he's an extrovert, Avery said the hardest thing about being a military kid isn't the moving, it's making new friends.
"I don't mind moving; changing schools is the easy part. But having to make new friends is hard—I always wonder if they'll like me or not."
At Operation Purple Camp, it was clear that Avery had no trouble making friends. In fact, he was very thoughtful and intentional to include kids sitting by themselves, asking them to join in a game a Manhunt, or sitting down to ask what activity they were doing next.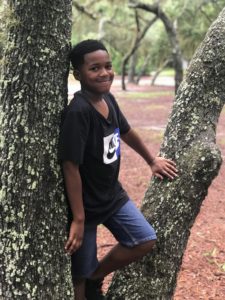 According to the Department of Defense, over 1.7 million kids, like Avery, have a parent serving in the military force right now. And since 9/11, more than 2 million children have had a parent deploy, and 1 million have seen a parent deploy multiple times.
"It can be scary having my dad in the military because I never know if he'll come home," Avery said, "or what if something happens to him?"
Avery's dad, who works on a ship, has been deployed three times, leaving Avery to help his mom take care of his little brother. Many military kids take on similar roles at home when a parent deploys. And for some, that added responsibility is tough.
Operation Purple Camp gives military children a free week of sleep-away camp designed to encourage connection and growth, away from the stressors of daily life at home. Campers meet others who know what it's like to have a parent in the military. And for a just a few days, they get to just be a kid.
"When I'm at camp, I'm not worried about my dad. I know he's okay. I know my little brother is safe and I can just breathe a sigh of relief."
This summer, thousands of amazing military kids, like Avery, will attend Operation Purple Camps around the United States. They'll try new activities—like archery, horseback riding, even tubing on the lake—and they'll experience it all with other military kids who walk in the same shoes they do. At NMFA, we know that when a military member serves, the whole family serves, and that includes our youngest heroes: awesome military kids, like Avery.
---