One Law That Covers It All: How the NDAA Impacts Military Families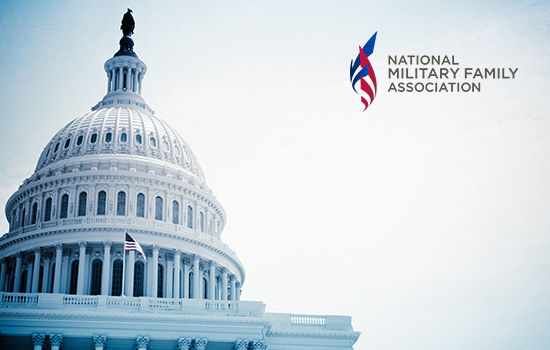 At the National Military Family Association, there's one law we care about most of all — the National Defense Authorization Act (NDAA). The NDAA sets policies and funding for the Department of Defense (DoD) and all of its programs. That means that just about every aspect of your military life is governed by this one giant, all-encompassing piece of legislation. From child care funding to commissaries and health care benefits, the NDAA covers it all.
While the House and Senate Armed Services Committees worked on their own versions of the bill, we advocated for the changes military families told us they need. Now that each chamber has voted on their versions, the House and Senate are in conference working out the details of what the final version of the bill will be (we have an explainer on the whole process here).
Urging our Lawmakers to Put Your Military Family First
Every year at this point in the process, we work to make sure the conference committee understands exactly what military families need from the final version of the bill.
Yesterday, we sent a letter to the Chairmen of both the House and Senate Armed Services Committees urging them to:
Adopt the Basic Needs Allowance (Section 602 of H.R. 6395) to make sure no military family goes hungry. The Basic Needs Allowance would provide military families with a total income less than 130% of federal poverty guidelines — often young military families who struggle to make ends meet — with the resources they need to put food on the table.
Fix the issues continuing to plague privatized military housing (Sections 2813-2817 of H.R. 6395). Housing issues aren't new, and NMFA, along with other organizations, has been working on a fix for military family tenants for two years now. During that time, we've heard horror stories…and they haven't stopped. NMFA continues to hear from families dealing with unsafe living conditions. Congress needs to press DoD and the privatized housing contractors to come to an agreement on the final two provisions of the Tenant Bill of Rights that have not been adopted: a neutral third-party arbiter and the ability for families to withhold Basic Allowance for Housing (BAH).
Expand the benefits available under the TRICARE ECHO program (Section 706 of H.R. 6395) to increase support to military families with special needs members. This expansion would bring the program in line with services available under State-based Medicaid Home and Community Based Services. Read more about the ECHO improvements we're calling for here.
NMFA will continue to advocate for these issues as the bill works its way through conference. You can read the entire letter HERE.