No Child Should Ever Go Hungry: Nutrition Assistance Programs For Military Families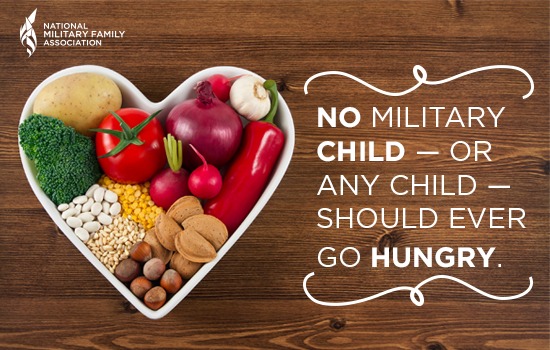 We all know that military life comes with many challenges: frequent deployments, long separations, and regular moves. For many military families, these challenges may include financial difficulties. For any number of reasons – including high unemployment rates among military spouses — military families may find themselves struggling to make ends meet and put nutritious food on the table. Fortunately, a variety of nutrition assistance programs are available to support military families in need. No military child – or any child – should ever have to go hungry.
One program that all young military families should know about is the Special Supplemental Nutrition Program for Women, Infants, and Children (WIC). Families with expectant mothers and/or children under age five can seek assistance through WIC, which provides nutritious foods, nutrition education (including breastfeeding promotion and support), and referrals to health and other social services to participants at no charge.
Don't assume that your family won't qualify. In order to be eligible for WIC, a family's income must be below 185% of U.S. Poverty Income Guidelines. BAH and COLA are not included in determining eligibility. For this reason, many enlisted military families may find they are eligible for WIC – as are nearly half of all babies born in the U.S. today.
Families receiving WIC are given vouchers that allow them to purchase items such as infant cereal, iron-fortified adult cereal, fruit or vegetable juice, eggs, milk, cheese, peanut butter, dried and canned beans/peas, and canned fish. To find out if you are eligible for assistance through WIC, contact the program administrator in your state.
Military families living overseas can also benefit from nutrition assistance programs.  The Women, Infants and Children Overseas Program  provides nutrition assistance to eligible military families living overseas. It was established thanks to the hard work of our Association and others who recognized that military families abroad may also face financial struggles. Eligibility criteria are the same as for families living in the United States. Your installation will have a WIC overseas coordinator who can determine families' eligibility for the program. WIC Overseas Counselors provide eligible families with an approved food list and redeemable food checks called "drafts," that may be exchanged for specific foods and quantities in overseas commissaries and NEXMARTs. Counselors can also offer nutrition advice and ideas for meal planning and food preparation.
Families with school-age children can benefit from several programs including the National School Lunch Program, the School Breakfast Program, and the Summer Food Service Program.  Your child's school will have information about eligibility criteria and how to apply. Schools typically send application for the free and reduced price meal program home at the beginning of the school year. Military families who move midway through the school year can ask for an application at their school office.
The largest national nutrition assistance program is the Supplemental Nutrition Assistance Program (SNAP), which many people refer to as food stamps. To be eligible, families' income and resources cannot exceed set limits. Unlike WIC, BAH is included in determining SNAP eligibility, which limits the number of military families who can benefit from this program. However, junior service members with larger than average families may qualify. Find out if you are eligible and how to apply at your local SNAP office.
Our Association believes strongly that no military family should ever have to struggle to put food on the table. Although many military families may never need nutrition assistance, these programs are a vital resource for those in need. We firmly believe that all federal nutrition assistance programs should be fully funded to ensure that families and children in need can benefit from these important services.
Updated 11-5-18