NMFA Welcomes Vice Adm. Raquel Bono to its Board of Governors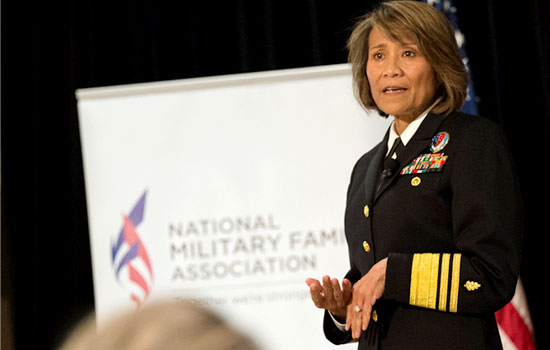 The National Military Family Association announces the appointment of Vice Adm. Raquel "Rocky" C. Bono, M.D, a champion for the health and well-being of military families, to its Board of Governors.
Bono recently retired from the military after serving as the director of the Defense Health Agency. There, she led the transformation of the Military Health System to ensure the health of nine million service members, retirees, and their families.
In March 2020, Washington Governor Jay Inslee appointed Bono to head the state's COVID-19 response. An early epicenter of the pandemic in the United States, new cases are now in decline in Washington and the state has reason to be cautiously optimistic.
"These are uncertain times for our country and our military families," said Tina Jonas, Chairman of the Board. "As our nation responds to crisis, we look to leaders like Rocky Bono to help us carefully chart our path forward. Rocky has dedicated her career to doing that for our military, and we are grateful she will now bring that experience and expertise to the challenges facing military families."
A 36-year Navy veteran, Bono was the first woman surgeon in the military to hold the rank of vice admiral.
She served as leader at the National Naval Medical Center in Bethesda, Maryland, the Naval Medical Center Portsmouth and the Naval Hospital in Jacksonville, Florida.
"I'm delighted and honored to continue my service to the military in my capacity as a member of the Board of Governors of the National Military Family Association, a group of dedicated leaders whose mission has always been laser-focused on military family well-being and prosperity," Bono said.
Throughout her military career, Bono, a military spouse herself and mother of three, was a committed voice for diversity, inclusion, and work-life balance.
"We are excited to welcome Rocky to NMFA and are eager to work with her to strengthen and support our military families," said Tina Jonas, Chairman of the Board.
Commissioned in 1979, Bono received her baccalaureate from the University of Texas and completed medical school at Texas Tech University. She holds an Executive MBA from the Carson College of Business at Washington State University.
In addition to being a diplomat of the American Board of Surgery, Bono is a fellow of the American College of Surgeons. Her personal decorations include the Defense Distinguished Service Medal, three Defense Superior Service Medals, four Legion of Merit Medals, two Meritorious Service Medals and two Navy and Marine Corps Commendation medals.