NMFA Urges Senate Committee to Hold DoD Accountable
By: MJ Boice, Staff Writer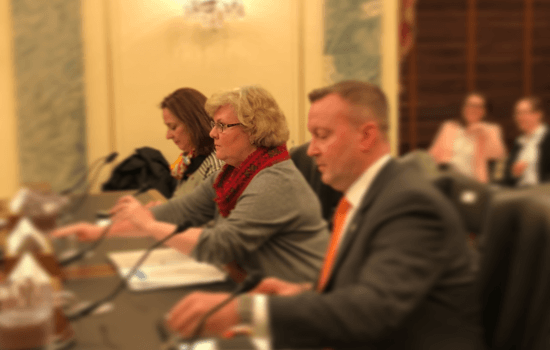 Through 17 years of war, repeat deployments, and other challenges, military families have faced their share of sacrifices in the name of freedom and justice for all. We've heard stories from military families, like yours, about health care experiences, struggles obtaining child care, and transition difficulties after leaving military service. And yesterday, NMFA shared some of those stories with the Personnel Subcommittee of the Senate Armed Services Committee during a hearing about military personnel programs and military family readiness.
Though Congress has made progress on behalf of our nation's heroes and their families by guaranteeing military pay increases, fixing TRICARE coverage for military children with life threatening medical conditions, and helping to create meaningful reforms to the military health system, there's still work to be done. And we believe it starts with the Personnel Subcommittee of the Senate Armed Services Committee.
"We have concerns about how the health care reforms are being implemented," Kelly Hruska, NMFA's Director of Government Relations shared in her testimony. "We urge you to maintain close oversight as the Department of Defense (DoD) implements health care reforms and to hold them accountable for making improvements to accessing quality care a reality."
When asked about NMFA's other health care access concerns, Hruska addressed the potential problems that could arise if military family health care were modeled after private civilian insurance plans.
Under TRICARE's new annual open enrollment periods, military families could potentially be stuck receiving care in underperforming military treatment facilities (MTF). While civilian plans do have open-enrollment periods, they aren't limited to one facility for all of their care, as military families with TRICARE Prime may be.
"You may have a wonderful experience at your MTF here in the National Capitol Region," Hruska explained, "but if you move to another area, choose to receive care at an MTF, and have a poor experience, you're trapped."
Hruska also reminded the committee of a provision Congress included in the 2015 defense budget requiring the DoD to track military family suicides. "We are extremely frustrated the DoD has yet to release any information to meet this mandate," said Hruska. "If we don't know the scope of the problem, targeting solutions is impossible."
In addition to the live testimony, NMFA also provided a detailed written testimony designed to urge our elected officials to provide oversight over DoD's implementation of TRICARE reform, and asks Congress hold defense officials accountable for meeting health care standards that address the needs of our nation's military service members and their families.
Posted February 15, 2018