NMFA Surprises Four Military Spouse Entrepreneurs with HUGE News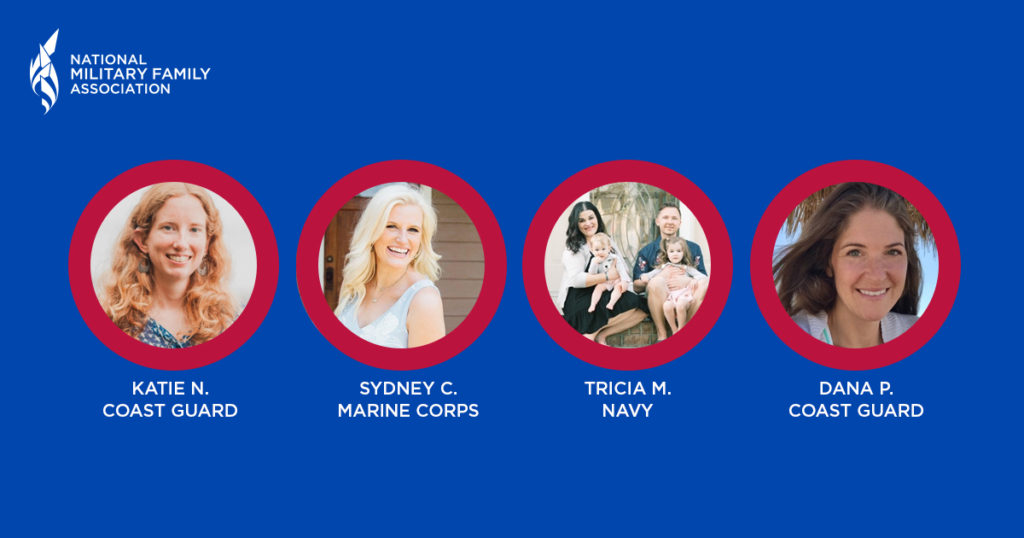 At NMFA, we love sharing good news! Recently, we had the opportunity to give some amazing news with four deserving military spouse entrepreneurs. During a time when many small businesses are struggling to keep afloat, the least we could do was remind them, and other military spouse business owners like them, that NMFA is, and always will be, in their corner.
But we did MORE than that! Each spouse was surprised through a video call with news that the National Military Family Association would be awarding them $5,000 to put toward expanding and growing their businesses.
Tricia is a Navy spouse and a doctoral-prepared, board-certified Nurse Practitioner who set out with one goal in mind: to improve the health of her community. She is currently working two jobs while raising her infant and toddler at home.
"Any funds provided would truly help manage business expenses, mean less working my other jobs and more time with my family," Tricia told us in her scholarship application. "If I had extra funds, I would be able to take on patients like veterans, who have a difficult time managing their mental health concerns through our local VA."
When she heard the news, Tricia said, "Thank you so much, that helps a lot because we want to support as many people as we can and that helps with resources. I'm really, really grateful. This money helps us so much to focus on our mission rather than delaying care that people will need."
Katie, a Coast Guard spouse and science educator, wanted to improve her community's after-school programming. In her application, Katie told us, "As a military spouse, it's been difficult to get my foot in the door for nonseasonal positions since these positions are often filled by applicants with a longer-term presence in the area. I've always managed to find positions utilizing my background, though I do feel at times I've been underemployed due to being a military spouse. I have also found it difficult on occasion to balance my work schedule with my husband's deployments and trainings."
To offset her unemployment, Katie started her own nonprofit last spring offering STEAM programs and resources and has since successfully served over 60 students in grades K-8.
Dana, a Coast Guard Spouse, is a licensed physical therapist. Between moving every 2-3 years and the 7-10 months it takes to relicense in each state, Dana found she was never able to gain seniority in her constantly changing physical therapy jobs. This reality inspired her to start her own mobile and telehealth physical therapy practice. Not only will she will be able to access her patients in their own home environment, she will be able to increase the one-on-one time with each patient. She will also incorporate a telehealth option with patients, allowing her to practice remotely while waiting to register in a new state. Dana said, "I am excited to be able to provide this higher level of service to patients and to deliver the care that I have always wanted to provide."
Dana emailed shortly after we gave her the good news. "I just want to thank you and the NMFA Military Spouse Scholarship Program for your generosity in expanding the scholarship award. My business was just getting started and I was only a few months in when the COVID pandemic happened. While the initial award was hugely beneficial for set-up costs and establishing my LLC, I was barely off the ground when my business was forced to switch focus because of social distancing requirements; I could no longer visit my patients in their homes. My husband is still working, as he is considered essential for now. These past few weeks I have been trying to manage my business, while homeschooling two kids. These extra funds will allow me to support my family during this time, as well as purchase new equipment to focus more on telehealth and online content while we wait this out. I am certain that the assistance of the NMFA will allow me to come out the other side a stronger business and ready to hit the ground running! Thank you from the bottom of my heart for helping me so that I can help others!"
Sydney, a Marine Corps spouse, started her own online boutique, Harper & Honey. In her scholarship application, Sydney told us, "As a military spouse often times our careers are put on the back burner for our spouses' career. While it is a sacrifice that I am proud to make, sometimes it is difficult to 'start over' time and time again when you are in the service industry. I came to our current duty station as a pretty established hair stylist where I had to rebuild my entire career and clientele in a town where I knew no one. In less than two years I was successfully able to win "Stylist of the Year" and I am so proud of that professional achievement. However, after I had my daughter, finding reliable childcare seemed impossible for a hair stylist with a late schedule and a military husband whose schedule is ever changing. On my late days I was constantly worrying if my husband was going to make it in time to pick our daughter up from day care."
Upon hearing the news, that NMFA was awarding her $5,000, she tearfully exclaimed, "Oh my gosh, wow! Thank you so much! I'm speechless." She followed up with an email message to say, "I just wanted to express my gratitude, again, to you. I am in absolute disbelief STILL. I had full intentions of being productive during my daughters nap today, but all I have been able to do is just stand in my office and be so, so grateful. This has been such an incredible blessing for our family and has given me so much motivation. I am deeply humbled! Thank you, thank you, thank you ALL!"
The NMFA team could not be prouder of these spouses and many others like them who are working hard to reach their educational and career goals. Many thanks to Prudential for your generous support and donation to make these scholarships possible.