NMFA Scholarship helps Military Spouse Defy Murphy's Law
By: MJ Boice, Staff Writer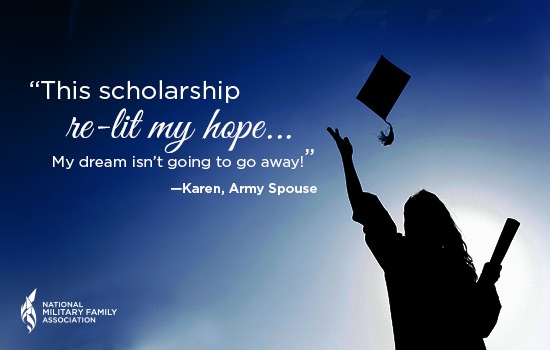 Army Spouse Karen Horvath can see the light at the end of the tunnel. She is currently in hot pursuit of her Master's Degree in Mechanical Engineering, and is on track to graduate in May of 2017. We don't have to tell you that this is no small feat for any military spouse, and the mother of three refused to let anything stand in her way…including Murphy's Law.
Karen and her husband are very dedicated to the idea of not taking out any student loans. The first year of her degree program was funded completely through various scholarships, including a significant one through her school. While she qualified for some of the previous scholarships she had received in the past, she wasn't able to secure the school's scholarship for the final year in her program.
The Horvaths began working tirelessly on their budget to determine whether or not they could afford to pay for some of Karen's tuition out-of-pocket. That's when the transmission in their vehicle decided to go out, and the cost to repair it was going to be several thousand dollars. After revisiting their budget several times, it became apparent that Karen may need to delay her graduation date—an option that might have sounded doable if Karen and her family weren't scheduled to PCS this summer.
They reached an impasse in trying to find an additional $1500 to cover Karen's tuition and decided to step away and revisit the budget a little later. After a few days, she was contacted by NMFA's Spouse Education & Professional Support Program. Karen's NMFA Military Spouse Scholarship application had been accepted, and she was to be awarded the exact amount that she needed to finish her degree: $1500.
Karen was moved to tears, sharing, "There's no way this was a coincidence. There aren't a ton of options for graduate degree scholarships as it is. It was perfect timing and (NMFA) really came through."
NMFA is preparing to close out their Military Spouse Scholarship application period on January 15th, so if you're looking for funding to further your educational and career goals, now would be the time to apply!
"Apply even if you aren't sure about going to school. You never know what doors could open if you do," Karen explained.  "This scholarship re-lit my hope of being able to graduate on time. My dream isn't going to go away!"
Whether you are a student, an entrepreneur, or are pursuing licensure in the mental health field, apply today and let NMFA keep your dreams alive, too!
For more eligibility information or to apply for NMFA's Scholarships, read more here.
Posted January 11, 2017