An NMFA Legacy: Thank You from 60,000 Military Family Members
By: Margarita Cambest, Staff Writer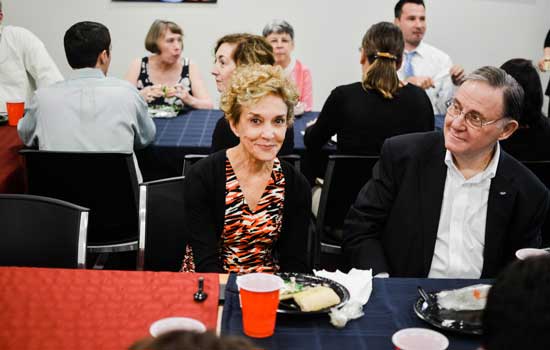 Retiring NMFA Youth Initiatives Director Terry Buchanan was what one might call a reluctant camper growing up. She enjoyed her years with the Girl Scouts, hawking cookies door to door, but the experience-based trips to earn badges are what weaved themselves into her memories. So it's no surprise that under her guidance, the Operation Purple® Program—National Military Family Association's tailor-made enrichment camps for military children and their families—has grown and flourished.
NMFA started offering summer camps in 2004 while Terry was a volunteer on our Board of Governors. A nurse and attorney in a former life, she'd already spent more than a decade as a member of NMFA before joining the staff in 2009. Years later, the weeklong camps have grown to become an integral part of her identity.
"All of these little pieces added up," Buchanan said of working in military hospitals and helping military families in her previous professions. "It really became my passion."
Under her guidance, NMFA has sent 58,000 children to Camp and Operation Purple's offerings have grown. More than a thousand families have attended Operation Purple Family Retreats®, geared at families dealing with recent deployments, and Operation Purple Healing Adventures®, offered to families of the wounded, ill, or injured.
"A lot of magic goes on at camps," Terry said. "We see that from the photos that come in. It's just a time for these kids to be unshouldered from the responsibilities they're carrying at home. There are relationships that form that for some of these kids are life changing."
Ask any part of the NMFA team, including our Executive Director Joyce Raezer, and they'll tell you Terry bleeds purple. "She's left an important legacy," Raezer said.
That legacy includes an organization committed to funding family enrichment programs like Operation Purple with the help of community partnerships and new evaluation tools to study the effectiveness of the camps on military children and their families. NMFA has commissioned the RAND Corporation to conduct two studies on the experiences of military families and on their experience at camp. A University of Washington PhD student is currently conducting a program evaluation of Operation Purple Family Retreats and Healing Adventures.
"That kind of evaluation isn't something a lot of nonprofits do," Raezer said. "She's so passionate about serving military families and how we can serve them through this program and that's what has made the program better."
After decades of service to NMFA and military families, Terry won't be going too far. She'll continue to volunteer at NMFA and represent us on the Pharmacy Beneficiary Advisory Panel, which advises the Department of Defense. But Terry will also have more time for her family and travel.
"The right time really is now," she said at a going away luncheon thrown Wednesday. "I can walk out and know that not only are we going to be OK. We're going to thrive."
Terry, we wish you all the best on your next adventure.  And on behalf of 60,000 military family members whose lives have been impacted by Operation Purple, we thank you.
Posted July 15, 2016