NMFA Joins Clear2Connect Coalition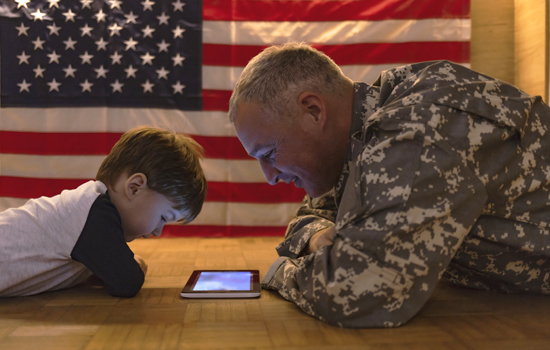 After serving 28 years in the Air Force, Vietnam veteran Fred Williams can't hear like he used to. He uses his captioned telephone to stay in touch with family and friends. The service uses a combination of automatic speech recognition (ASR) technology and human call assistants to check the accuracy of the captions.
There are thousands of veterans like Fred dealing with military-related hearing loss, but it's not always the service member who needs help. According to the U.S. Department of Health and Human Services, two to three of every 1,000 children in the United States are born with detectable hearing loss in one or both ears. And approximately 15% of American adults report some trouble hearing.
Did you know that if anyone in your military family has trouble hearing, you can access technology to stay connected to loved ones, doctors, employers, support systems, and others in the community?
This is why NMFA has joined the Clear2Connect Coalition, an initiative dedicated to preserving the right for Americans with hearing loss to access the technology they need to communicate.
For some, that includes captioned telephones which enable people with hearing loss to read captions during a live phone call on a specialized telephone or mobile app. Cutting-edge automatic speech recognition (ASR) technology, along with skilled transcribers, provide this service in real-time.
Currently, the Federal Communications Commission (FCC) is considering certifying vendors that offer ASR-only solutions for captioned telephone service. This would take the human element out of the equation, potentially diminishing the quality of the service.
Fred knows this all too well. Once he received a call in the middle of the night informing him that his mom was in the hospital. At first, the captions were jumbled. The medical and technical terminology combined with background noise made the initial message unclear. Thanks to the call assistant, the captions were updated correctly and Fred was able to understand what was happening.
"On all my phone calls, you can tell when a human is correcting something," Fred explained. "Text will disappear, then reappear. It starts garbled, but a couple seconds later, a new one will come in improved. I can tell you that, without those corrections, huge portions of all my phone calls wouldn't make sense."
As part of the Coalition, NMFA will spread awareness and educate members of Congress and the FCC about the critical importance of implementing quality metrics and standards for the technologies that help hard-of-hearing Americans communicate and connect.
For more information on how to support the initiative or if you're looking for help for a member of your military family, visit https://clear2connect.org/. If you're looking for more resources about what hearing solutions TRICARE covers, visit the TRICARE website.