NMFA Honors Advocates
By: MJ Boice, Staff Writer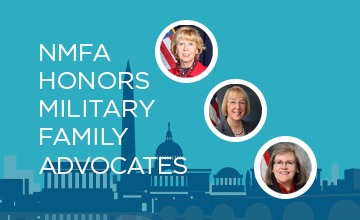 Do you ever wonder how military family programs and policies get started? Who makes them better over time? And who's working behind the scenes to make military life better for our nation's finest and their families?
Since 1984, NMFA has celebrated those who have supported military families through their work or leadership, and recognize them with our Support of Military Families Award. These stewards of good work do not seek recognition, and strive valiantly to further the mission of NMFA.
We would like to introduce you to this year's Support of Military Families Award recipients:
Senator Patty Murray (D-WA)
Senator Patty Murray may be a name you've heard of before. She represents Washington State on Capitol Hill, but did you know she's the daughter of a disabled World War II veteran, too? While in college, she interned in the psychiatric ward at Seattle's Veterans Affairs(VA) hospital and saw first-hand how disabilities impact America's veteran population. Since then, she has worked tirelessly to ensure they don't fall through the cracks.
In 2012, Senator Murray introduced legislation that would cover fertility treatments, like in vitro fertilization (IVF), for veterans with combat-related infertility. Service members already eligible for IVF through TRICARE would lose coverage after leaving active duty service because of an outdated law barring the VA from providing those services. Veterans were then forced to pay out of pocket for expensive infertility treatments.
The amendment finally passed with strong bipartisan support and was included in the final draft of the Military Construction and Veterans Affairs Appropriations Act, which was signed by President Barack Obama on September 29th, 2016.
NMFA is proud to honor Senator Murray for her efforts to improve the quality of life for our nation's veterans and their families.
Hollister (Holly) Petraeus
Former Assistant Director, Office of Servicemember Affairs
Consumer Financial Protection Bureau (CFPB)
Holly Petraeus has experienced nearly every facet of military life. She is an Army wife, military mother, and an advocate extraordinaire. From her volunteer role throughout her husband's Army career, to her extensive work as the former Assistant Director in the Office of Servicemember Affairs at the Consumer Financial Protection Bureau (CFBP), Holly has worked tirelessly to educate, support, and advocate for service members and their families.
While she was serving as a Senior Family Readiness Group Advisor, she began to see the inadvertent financial issues military families would face around deployments. Unsettled by this, Holly decided to start working with Department of Defense (DoD) officials, as well as local, state, and national legislators to correct these issues.
Because of these efforts to improve financial readiness within military families, she was asked to head the Military Line through the Council of Better Business Bureaus. She provided consumer education to service members and their families, and maintained a 'boots on the ground' approach to her work, visiting military units to learn about the financial challenges and issues that impact them. Holly delivered workshops on topics, such as financial literacy and consumer scams, to over 20,000 people in different military communities.
After the creation of the Office of Servicemember Affairs within the CFPB, Holly continued her leadership role by addressing military financial issues at the national level. She fought hard against predatory lenders who sought to take advantage of the military population through payday loans, GI Bill abuse, mortgage and auto loans, and scams aimed at the military community. Because of these efforts, military families now have a way to get help resolving complaints from these improper practices.
Holly retired from the CFPB earlier this year, and NMFA is honored to recognize her for supporting and protecting the financial readiness of military families both on and off the clock.
Barbara A. Thompson
Former Director, Office of Family Readiness Policy
Office of the Deputy Assistant Secretary of Defense
(Military Community and Family Policy)
Barbara Thompson has worn many hats and has been a driving force within the military community for many years. While you may not know her personally, you may be able to identify her through her work as a Director for the Office of Family Readiness Policy. You probably even used some of the programs and services under her guidance over the last 14 years. Whether it's family readiness programs, child development centers, family advocacy, or deployment support, Barbara was in the thick of creating and maintaining the vast majority of military family programs that exist today.
After spending 18 years in different positions with Air Force family programs, she coordinated support programs for severely injured service members and their families, and supported the rebuilding of the Ministry of Education in Iraq.
She recently retired from the Office of Family Readiness Policy, where she worked tirelessly to maintain and advocate for continued support for military families-regardless of deployment schedules. Whether she was overseeing the Military Family Readiness Council, the Office of Community Support for Military Families with Special Needs, or the DoD Child and Youth Programs that serve 700,000 military-connected kids daily at over 300 locations worldwide, Barbara continuously projected the message that military families serve, too.
NMFA is proud to honor Barbara Thompson for her dedicated public service in identifying and filling gaps in military support services and remaining a military family advocate even in retirement.
Posted February 24, 2017