NMFA honors 32 Volunteers as recipients of the President's Volunteer Service Award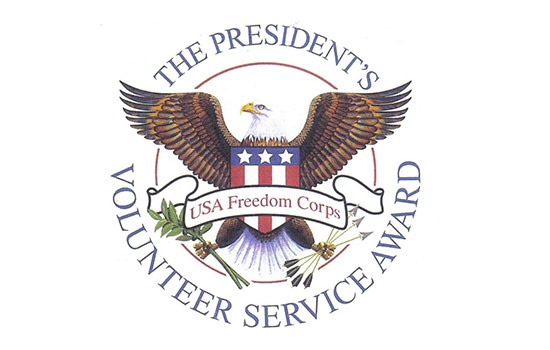 During National Volunteer Week, April 10-16, 2016, the National Military Family Association (NMFA) recognizes their Volunteer Corps with appreciation and thanks. Founded by a group of determined Volunteers more than forty-five years ago, our Volunteers and Issue and Outreach Specialists continue to provide support and help us shape the lives of our country's military families in a positive way.
The President's Council on Service and Civic Participation was established in 2003 to encourage more people to serve by recognizing the valuable contributions Volunteers are making in our communities. The evaluation is based on annual volunteer hours, and awards include the Bronze level, recognizing 100 to 249 hours; the Silver level for 250 to 499 hours; and the Gold level award for 500 or more volunteer hours.
NMFA is proud to recognize the work of 32 Volunteers and Specialists who have earned the President's Volunteer Service Award for their contributions in 2016.
President's Volunteer Service Award Gold level for 500+ volunteer hours
Kelly Johnson, Volunteer, Alexandria VA
As an administrator with our Scholarships + Professional Education department, Kelly is the front line of our program, and her patience and competence put our applicants and recipients at ease. Our program attracts an incredible range of ages, countries of origin, and levels of experience with the military lifestyle. Kelly is able to work seamlessly with all, and that is why she was so effective engaging with almost 500 spouses she advised and processed. Kelly is NMFA's only recipient this year to earn the President's Volunteer Service Award Gold level for over 500 hours of volunteer service.
President's Volunteer Service Award Silver level for 250-499 volunteer hours
Alan Radke, Outreach Specialist, Lincoln, NE 
Since 2006, Alan has dedicated his time and efforts helping military families in Nebraska. As an Outreach Specialist, Alan hosts information tables, attends meetings, and networks with community groups to educate them about NMFA. In addition to his outreach to families in Nebraska, Alan has served as a member of the Volunteer Services Advisory Committee and represented the Volunteer Corps on our Board of Governors. In 2015, Alan was named NMFA's Novella Gibson Whitehead award recipient.
President's Volunteer Service Award Bronze level for 100-249 volunteer hours
Marielle Beniquez, Issue Specialist, Davis-Monthan Air Force Base, AZ
As an NMFA Issue Specialist, Marielle is very involved with her military community and reports on the important issues affecting the families on Davis Monthan AFB. In her four years of volunteering, Marielle routinely shares our resources and information with military families at the many events and meetings she attends. Marielle is a past recipient of our Volunteer Corps Service Award for her dedication and leadership.
Carol Bensley, Caney, OK
Carol has volunteered with NMFA for more than two years. Carol shares NMFA information and resources with the military families and veterans in the Oklahoma and North Texas area. She networks with local military families through her work as a Patriot Guard escort.
Tori Dang, Camp Pendleton, CA
Tori has volunteered with NMFA for more than two years. She is very active in her community and represents the military families in the San Diego area.  She attends events and meetings on behalf of NMFA, reports on the happenings and concerns in her community, and routinely volunteers for our scholarship judging and other special projects.
Debbie DeLisle, Joint Base Lewis McChord, WA
Since 2010, Debbie has been sharing her time, talents, and experience volunteering with NMFA. Debbie represents the military families in the Joint Base Lewis-McChord area and is also very involved with the Washington National Guard and Camp Murray community. As an Outreach Specialist, Debbie regularly attends meetings and events and shares information, programs and resources with military families in the JBLM area.
Holly Franklin, Issue Specialist, Schriever Air Force Base, CO
Holly Franklin has volunteered with NMFA for three years. As an Issue Specialist, Holly is passionate about military children and education. She shares our resources and information with the families stationed at Schriever AFB and provides feedback on education related issues to our Government Relations department. Holly also routinely volunteers to judge our scholarships, mentor other Volunteers, and numerous other special projects.
Cathy Boynton, Outreach Specialist, Southport, NC 
Since 2012, Cathy has volunteered in many ways. She currently serves as a Volunteer Interviewer that welcomes and informs potential volunteers about the projects and efforts they can participate in as Volunteers. A lifelong Volunteer, Cathy continues to serve military families by being a mentor within our Volunteer Corps.
Donna Casnave, Volunteer, Augusta, GA
As a volunteer for over seven years, Donna shares information and resources to the service members and families in each community where she has lived. Donna is a networker and has made her NMFA volunteerism a part of her many moves across the country.
Stefanie Cooper, Volunteer, Joint Base McGuire-Dix-Lakehurst, NJ
Stefanie has volunteered since 2008 and has been instrumental in making sure the military families in her community know about our advocacy, resources and programs. She has also helped in identifying key events and networking opportunities for military families and our Association.
Theresa Donahoe, Issue Specialist, Fort Benning, GA
Although Theresa has volunteered for more than 13 years, she currently serves as the only representative from our Volunteer Corps on our Board of Governors. Theresa reaches out to new Volunteers offering mentorship and is helpful in introducing them and NMFA to the local community. Theresa is a past recipient of our Novella Gibson Whitehead award for her advocacy work in support of military families.
Robert Wiggins, Volunteer, Stevens, PA
Robert has volunteered with NMFA since 2007 networking with military families in New Jersey and Pennsylvania. He regularly delivers materials and information to several family centers and ensures the staff are informed about our programs and resources. Robert's outreach is unique in that his efforts are focused on both active duty families and families of the National Guard and Reserve in his community.
Kelly Henry, Volunteer, Mons, Belgium
Kelly has volunteered for less than two years, but works tirelessly in her community to ensure families are informed about resources, information and volunteer opportunities. Kelly makes it her mission to welcome new families, report about the successes and challenges of military families in her community, and contribute to a positive atmosphere and quality of life for her neighbors, her family and her community.
Dennis Hickey, Volunteer, Springfield, VA 
Dennis has volunteered with NMFA long before his "official start date" in 2008. NMFA's very prestigious Sydney Talley Hickey award is named in his wife's honor for outstanding advocacy for military families. Dennis is dedicated in his work with our Government Relations team. He attends hearings and meetings, and shares our programs and Department of Defense policy changes with his community. Dennis is a valuable asset to our Government Relations team.
Russell Hopkins, Volunteer, Skokie, IL
Russ is an active advocate in the Chicago area. Wearing many volunteer hats, Russ works to connect military families with local resources. He excels at networking and has helped raise awareness about our programs and resources with military families in his civilian community.
The following Board of Governors members are awarded the President's Volunteer Service Award for their responsibility for the oversight of governance, finances and strategic vision of our Association. They give their time, treasure and talents to ensure we do our best to support military families.
President's Volunteer Service Award Silver level for 250-499 volunteer hours in 2015
David Fee (Treasurer)
Molly Ferrara
Jeanine Hayden
Gail McGinn (Chairman)
Thomas Stanners
Mary Lynn Stevens (Vice Chairman)
Clifford Warfield
President's Volunteer Service Award Bronze level for 100-249 volunteer hours in 2015
Diane Altenburg
Paul Arcari
Frank Cumberland
Julio deJesus
Stephanie Murphy
Brian Powers
Elizabeth Rosborg (Secretary)
Mary Scott
Stephen Scroggs
Candace Wheeler
Posted April 1, 2016