NMFA Goes to Bat for Military Families on the Hill
By: MJ Boice, Staff Writer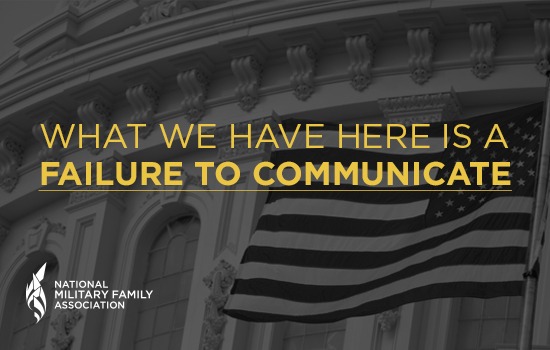 On February 14th, NMFA's Executive Director, Joyce Raezer, testified on the Hill before the Senate Armed Services Committee in a hearing about the Department of Defense (DoD) Single Service Member and Military Family Readiness programs.
We've heard from military families, like yours, about military health care experiences, the troubles finding reliable and affordable child care, and the ongoing issue of spouse employment. We took those concerns straight to Capitol Hill and spoke on behalf of military families around the globe.
Recently, 9,000 military spouses took part in NMFA's survey where NMFA learned 30 percent of spouses who used military hospitals reported they rarely or never get an acute care appointment within the 24 hour access standard. During her testimony, Raezer urged the Senators to hold DoD accountable for meeting these standards, and ensure pediatric care and special needs care, like the Exceptional Family Member Program (EFMP), don't fall through the cracks in a rush to implement changes to TRICARE.
"Military families still need better coordination between the relocation, education, healthcare and family support elements of the program," Raezer said of EFMP. "We still have special needs families who aren't getting the services they need through the DoD or through a state program…we need a push to move that through."
Senator Kirstin Gillibrand (D-NY) then spoke about the Military Families Stability Act (MFSA), a proposed bill designed to lessen the burden military family's face while moving on military orders. If made into a law, it would allow families to move six months ahead of, or behind, their service members.
"Giving the family the control to make decisions on what's best for them, while also keeping in mind what's best for the military, is a great solution," Raezer explained.
The bill, backed by Sen. Gillibrand, could shed light on potential solutions, and could encourage families to make decisions that strengthen their families. MFSA would give military kids the time to finish out a school year, and would help military spouses deal with current or future employment. We know most military families are accustomed to accepting orders, saluting, and moving on; most wouldn't ask the services to accommodate family concerns, like employment or schooling.
"What we have here is a failure to communicate," Senator Thom Tillis (R-NC) said, likening the topic to a scene in the popular move, Cool Hand Luke. "We're not communicating the potentially negative impacts we're having on families, just because of a culture of doing what you've been ordered to do."
Aside from our live testimony, NMFA also provided written testimony urging our elected officials to not only protect our military from sequestration, but hold DoD accountable to meet health care standards while keeping faith with military families. These families continue to make sacrifices while trusting our government will provide them with resources to keep them ready. We believe that trust cannot afford to be tested any longer.
Together we're stronger.
Posted February 16, 2017