NMFA Celebrates the Retirement of Longtime Executive Director Joyce Wessel Raezer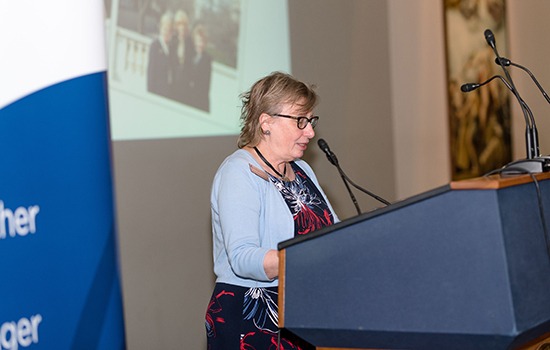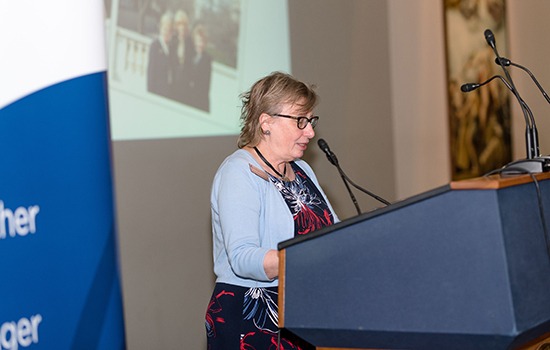 By Shannon Prentice, Content Development Manager
The National Military Family Association bid a fond farewell and sent its best wishes to longtime Executive Director Joyce Wessel Raezer on Wednesday evening. Raezer, who's been with NMFA since 1995, was celebrated at the Hart Senate Building among family, colleagues, mentors and mentees, dozens of other friends of NMFA, and even more friends of Raezer.
Recognizing the efforts made for America's military families
During her remarks, she made sure to thank all who made a difference in the lives of military families over the years.
"We don't give up because we, my fellow advocates, are optimists," she said. "We see all the things that are wrong but believe we can make them right."
A call to action for those who follow her footsteps
Always the advocate, Raezer reminded everyone what the true mission is: supporting and fighting for people who volunteer to put their lives on the line for this country and their families.
"Please lead the fight for people in this age of lethality. Don't accept narrow definitions of readiness that focus on the right equipment and training but fail to acknowledge the importance of strong families to the readiness of the service member.
In any discussion of veteran or service member suicide, call out that we're still waiting for the stats on military family suicide Congress ordered Department of Defense to report in 2015.
Oppose any proposed change in the military health system that, while improving medical readiness of providers and service members, would fail to improve access to quality care for families. And, strike a blow for accountability: push to end the Feres Doctrine, allowing our troops to sue for malpractice.
Work to end the stigma about asking for help still prevalent in the military community. Military families must feel empowered to seek mental health care for themselves or their children when needed, seek out military support programs, and enroll in government safety net programs for which they are eligible without embarrassment or a feeling of failure. But ending the stigma isn't enough; we must make sure these programs have the capacity to support families when they muster up the courage to seek help. SNAP, WIC, and Medicaid are lifelines for many military and veteran families—speak up for those families when cuts are proposed.
Despite so many government and private initiatives, that military spouse unemployment rate remains stuck at almost 25%. Persistence, teamwork, and innovation are needed to unstick it.
Call out proposals promising school choice for military families as shams if choices aren't actually available, or if funding them will hurt the education of other military kids and their classmates.
300,000 troops are currently deployed. Don't just highlight those wonderful homecoming videos; show the good-bye ceremonies and the faces of the families deploying troops leave behind.
Hold military leaders accountable for their contract oversight role in housing, health care, and support programs. Don't let them abandon the people they're supposed to protect.
Work to end program and service stovepipes that get in the way of a more consistent and comprehensive approach to family readiness.
Enhance the focus on the physical and psychological health of military children, especially our youngest caregivers, not just as the next generation of potential recruits, but as our country's future.
Fight to end—once and for all—the SBP-DIC offset, the so-called Widow's Tax.
You, my fellow military family advocates in whatever role you play in supporting military families, have your work cut out for you, but you have the power to make things better and you know it—that's why we do what we do. So, don't just hold on to that hope—make it grow!
Encourage research and use the data to be better prepared for the next crisis even as you continue to fight the challenges of the present. But, understand that no matter how well-prepared, you will discover things will go wrong in unexpected ways, new issues will emerge, and new populations will need to be served.
Understand that your work will never be just about the war or crisis you face. The rest of America may want to fight the last war rather than addressing the challenges you see on the horizon. The rest of America will also lose interest in your cause before you do. Strong public support helps, so use whatever bully pulpits are available to you to raise awareness about the people you serve."
After nearly 30 years as a champion of military families, Raezer encouraged her audience, "Take care of yourself. When people offer to help, let them. Celebrate the victories, however small, and always keep a reminder of a time when you made a difference handy to get you through a bad day. Never give up!"