Nine Caregivers of Wounded Warriors Awarded 2020 Pillars of Strength Scholarships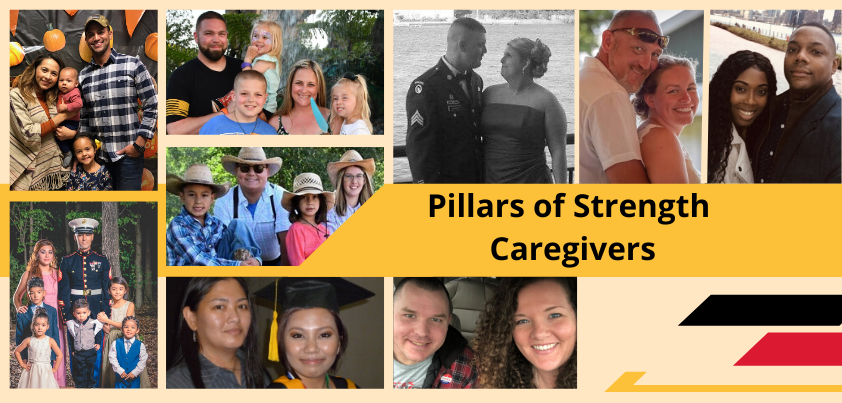 A world-wide pandemic couldn't keep The Blewitt Foundation and National Military Family Association from celebrating nine incredible caregivers pursuing their dreams.
Pillars of Strength was created specifically to help exceptional volunteer caregivers—often spouses, friends, parents or children–who have sacrificed their own careers to help their loved ones recover from serious physical injuries or psychological trauma that they suffered while serving in the military.
Its scholarships are made possible by The Blewitt Foundation and the National Military Family Association in alliance with University of Maryland Global Campus, the nation's premier global provider of higher education to the U.S. military since 1947.
During a virtual event to commemorate the hard work of these caregivers, each scholarship recipient spoke briefly of their experiences in caregiving and how the Pillars of Strength scholarship gave them the ability to dream again.
Pillars Scholarship recipient, Lindsay Williams, is working towards her Bachelor's of Science in Social Science with a minor in communications. She said, "My goal is to become a first-generation college graduate. Also, I want to give my children a better life and model for them that hardships do not own us but are simply opportunities that we can overcome through perseverance and hard work"
Featured speaker and Pillars Scholarship recipient, Candace Laguna, shared how the spine-shattering injury her husband sustained during Army training in 2009, combined with injuries suffered five years earlier while deployed in Iraq created a "medical-damage domino effect."
Her family was tested further when their son, Antonio, the eldest of the couple's four children, was diagnosed with ROHHAD syndrome, a rare and incurable condition typically resulting in early death.
"From 2010 to 2019, life consisted of living from one hospital appointment to the next ICU admission or surgical waiting room," Laguna said.  "Many nights, I was waking up to check and ensure that our child was still alive, as well as making sure Frank was coping with his depression and pain."
Managing daily life—which included homeschooling four children to minimize everyone's exposure to colds and flu—was complicated and required effort and sacrifice on everyone's part, she added.
When looking back on submitting her scholarship application, Candace said, "It was the dream of not merely surviving, but thriving, that compelled us to sit down and become vulnerable again." Candace is pursuing a Bachelor's in Psychology with a Minor in Biology and a certificate for Program Management.
Her ultimate dream is to become a physician. "If I'm going to dream again… I might as well dream big! Thank you for removing the boulder of financial burden from our shoulders with a Pillars of Strength scholarship. It is an honor and blessing that renewed my hope and will sustain my spirit through many future challenges."
Meet the 2020 Pillars of Strength Scholarship Recipients
Each recipient's story is both extraordinary and unique—and each embodies a spirit of perseverance, dedication and courage in the face of incredible hardship and personal challenge. Click here to learn each recipient's story.
Erika Auro-Romillo
Sarahi Chavez
Stephanie Hall
Candace Laguna
Dacy Luthers
Nicole Paredes-Laign
Tona Rimmer
Pamela Rutkowski
Lindsay Williams