More Fees With No Real Improvement: The Ongoing Theme for Military Health Care Reform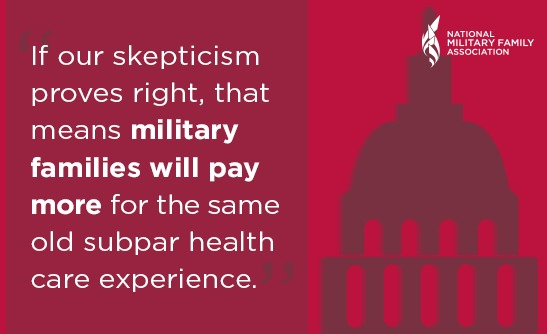 One thing is clear: Congress listened to military families as they developed their Military Health System (MHS) Reform proposals. Both the House and Senate Armed Services Committee (SASC) plans attempt to address access, quality, and safety issues.
Exciting news, right?
Sort of.
While we're glad Congress used the feedback from military families, we're not convinced the proposals in the National Defense Authorization Act (NDAA) for Fiscal Year 2017 (FY17) are enough to effectively address the problems families encounter with the military health system.
The House Armed Services Committee (HASC) proposal was all about fee increases without many obvious improvements to military family health care.
Unfortunately, more fees with no real improvements seems to be the ongoing theme. The SASC's plan also contains lots of fee increases with few guaranteed improvements.
The SASC plan includes proposals to improve beneficiary access, health care quality and safety, and overall health outcomes. BUT…
It's a long road from these promises until we'd actually see any change.
We're skeptical the SASC reform proposals will be implemented in a manner that benefits military families.
If we're right, the SASC proposal translates to military families paying more for the same old subpar health care experience.
Here's what's in the SASC reform:
Fee increases are guaranteed.
TRICARE Prime remains TRICARE Prime, but TRICARE Standard becomes TRICARE Choice. There are lots of new/increased fees, but active duty families are largely unaffected.
For active duty families, TRICARE Standard/Choice families will see the biggest cost increase; the SASC increases the catastrophic cap from $1,000 to $1,500. This hits special needs families the hardest, since they typically hit the catastrophic cap (the annual maximum you will pay out-of-pocket each year) every year.
Are you retired or looking toward retirement?
The TRICARE Prime annual enrollment fee for retiree families would increase to $700, but you may no longer be eligible for Prime.
Retirees will only be allowed to enroll in Prime if they have access to a Military Treatment Facility (MTF) with space available.
If your retired family is TRICARE Standard/Choice, or forced to move to TRICARE Choice, you would face a brand new enrollment fee that starts at $300 and increases to $900 over 5 years. The enrollment fee won't apply to the catastrophic cap, which also increases from $3,000-$4,000.
Special needs families take note: this means your maximum annual out-of-pocket expenses will increase from $3,000 to $4,900.
Did we mention all enrollment fees, deductibles, co-pays and catastrophic caps will increase every year by an index linked to cost-of-living or consumer prices for health care? As we said, lots of fees…
Lots of fees, but few tangible improvements.
Within the pages of the SASC report, this caught our eye, "…the committee determined not to increase TRICARE fees unless we could create more value – provide high quality care, better access to care, and a better experience of care."
Well, thanks. Now, what about this 'better care' and 'better experience?'
There are three tangible improvements military families should see right off the bat:
Access to Urgent Care: Urgent care will no longer require referral/authorization from your Primary Care Manager. If you can't get an appointment when you are sick, you can go directly to a network urgent care.
Lower out-of-pocket costs for medically retired families and survivors: Costs would be in line with those of active duty family members
Somewhat streamlined access to specialty care: You'll still need a referral from your Primary Care Manager, but you won't have to wait for an authorization to process before making your specialty care appointment.
The big bummer is for you TRICARE Standard/Choice families. You'll bear the brunt of the fee increases, and won't see any immediate improvements.
One Big Red Flag
The language in the markup allows for DoD to deem any diagnostic test, medical treatment, or prescription drug "low value" and raise co-pays to discourage use.
Discourage use, Congress??
We strongly oppose this provision, as it gives DoD too much latitude in making TRICARE coverage determinations for military families.
For the most part, we believe SASC has good intentions for the long term. Their plans are to give military families and retirees additional options for seeking care in the civilian community if they are pushed out of the MTFs because these facilities may downsize. We're waiting to see  how these big picture, long-term initiatives will play out for military families. Without adequate performance standards, metrics, and monitoring, military families will pay more for health care – with guaranteed fee increases – but might not get additional value in return.
Congress, let's do better for our military families.   
Posted June 8, 2016