More Airstrikes in Syria Create Uncertainty and Pride for Military Families
By: Shannon Prentice, Content Development Manager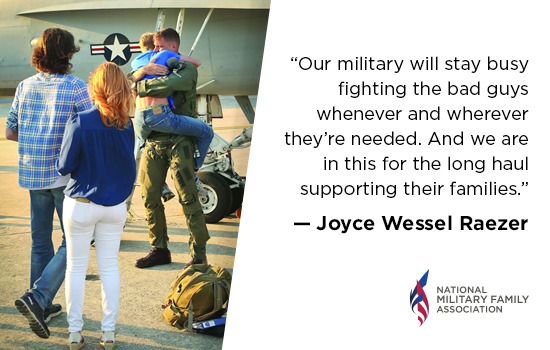 "This strike was double the size of the last strike in April 2017," Lieutenant General Kenneth McKenzie, Director of the Joint Staff, explained in a press briefing Saturday morning at the Pentagon.
United States military forces, along with allies France and Great Britain, launched an attack last night on three major locations in Syria housing chlorine and sarin—two chemicals used by the Assad regime to kill and terrorize its own citizens. In April 2017, almost 100 innocent Syrian civilians, including children and even babies, died a chemical weapons attack launched by their own government.
"The use of chemical weapons anywhere in the world is an inexcusable violation of law," Chief Pentagon Spokesperson Dana White said in the briefing. "The United States will not tolerate it."
The Syrian government reportedly has one of the largest stockpiles of chemical weapons, including the world's most potent chemical warfare agent, VX. Last night's strikes deployed 105 weapons against three targeted locations containing a highly toxic, odorless liquid nerve agent.
U.S. military officials are calling the strike "precise, overwhelming, and effective," hitting all three targets while minimizing civilian casualties.
Americans will debate whether the airstrike was an appropriate response.  But military families have a more complicated mix of emotions, knowing our country will continue to respond to acts of terrorism. On the one hand, they will fear the consequences military actions create for their deployed service members. But, they also feel pride that their service members are protecting innocent women and children.
Air Force spouse Heather Aliano's husband is deployed overseas.
"Each time I hear about an escalation, of course I catch my breath for a second," Aliano explained. "We've been at war for 16 years, and I just hope there's a clear strategy. I don't want to see our country in another ground war."
Nearly 300,000 service members are currently deployed around the world and many others may be called on to support further U.S. missions in Syria or around the world. Their families feel the weight of those absences just as they have during the nearly two decades of war.
"The families I know—including my own—are tired," Aliano said. "I'm concerned what this airstrike means for our family, and if it means we'll ever see peace on the horizon."
Ashley Raynor, a Navy spouse says she's ready for anything the military throws her family's way.
"I have a lot of confidence in the Secretary of Defense's knowledge and experience," Raynor shared. "If my husband needs to deploy, my job as his wife is to support him on any level. I don't fear deployment."
Raynor recalls seeing images of children affected by the previous chemical attacks and said she's in favor of any mission to help those who can't help themselves.
"I am proud that our nation is trying to defend the people of Syria—it means we're doing what we said we'd do, and my support of that is unwavering," Raynor stated.
Scott R., whose identity we're protecting, is a Petty Officer Second Class in the Navy and a first-time father of a one-month-old.
"If I have to deploy and leave my wife and son, I'll be worried about making sure they're supported," he said. "I want to make sure my family is taken care of while I'm gone. It takes a lot of preparing, even to leave quickly. Once you're out there, the mission is our focus. We want to get it done and get home safely."
"The world remains a dangerous place and our military will be asked to respond to the threats of those who create that danger, said NMFA Executive Director Joyce Wessel Raezer. "But our military members are only as strong as the families they love. It is up to all Americans to support those families and keep them strong."
Posted April 14, 2018