Military Teens: Navigating the Choppy Waters of Change
By: MJ Boice, Staff Writer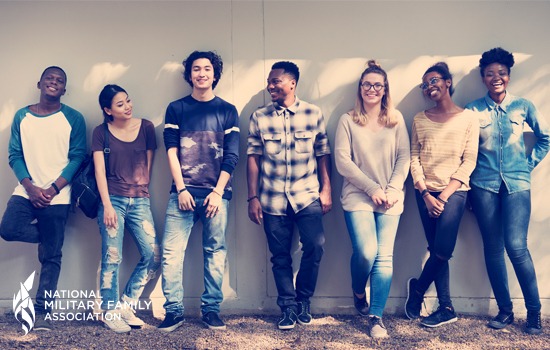 Being a teenager is tough business. Being the parent of a teenager is tough, too. Add military life into the mix and suddenly, the trek through adolescence can feel more like climbing Mount Kilimanjaro.
NMFA spoke to several military families who told us about their challenges and triumphs in raising military teens.
Fitting in
To any teenager, parents are typically the last people they believe will understand 'what it's like' to be in their shoes. Adolescence is usually when they begin to work on becoming independent from their parents, allowing friends to fill that gap.
Alec's husband received assignment orders to an area that didn't have a high population of military families. In fact, Alec's 15 year-old daughter, Allie, was the only military-connected student in her school. "We've always lived aboard big Marine Corps bases, so the majority of her friends were also military kids," said Alec. Allie was afraid she wouldn't be able to make any friends because she didn't know if those other kids would even 'get' her.
"Thankfully, she made a few friends in PE right away when they found out that she played softball," Alec explained. "Allie managed to make a connection with kids by finding common interests and latching on to that."
Special needs
Army spouse Natalee wasn't sure what to expect when her son Jason started high school. He was diagnosed with ADHD in middle school and received accommodations through an Individual Education Plan (IEP). An IEP is used for special needs students who require modifications in the classroom in order to succeed academically.
But right before the start of his ninth grade year, Jason informed his mother that he no longer wanted to be accommodated in the classroom and he wanted to get rid of the IEP. "I didn't know what to say! We worked so hard to nail down a plan to help him succeed in school, and the classroom modifications were working. But he didn't want it anymore," said Natalee.
"I just didn't want to draw attention to myself," Jason shared. "Kids can be jerks and I didn't want to be a target."
Thankfully, Natalee had done her homework on special education law and found a solution that worked for everyone. "We had a meeting before the start of the school year to change his IEP to a 504," Natalee said. "A 504 is much easier to be discreet with and is much less restrictive so Jason can still be accommodated, but without such strict requirements."
Deployments
Deployments are often difficult for every family member, but sometimes it's hardest on the kids. "When my husband deployed this last time, my son, Jake, just turned 16," said Army spouse, Kim. "He withdrew quite a bit when his dad left and started getting into trouble at school."
After getting three calls from the school in one week, Kim reached her breaking point. "I'd had it. I had two other kids to worry about and I worked full-time. I was already stressed with my husband gone," she said.
Kim decided to speak with a Military Family Life Counselor (MFLC) aboard the installation. "I just let it all out. I told the counselor all of my frustrations with Jake and how I felt ill-equipped to raise a boy growing into a man. I just feel like he needed his dad for this," she said.
That's when the MFLC asked if Jake had a cell-phone. "He said 'the next time your husband gets the chance, have him call Jake on his phone to talk to him. Make sure that the conversation isn't just about chores or school work, but about a shared interest'. I hadn't even thought of that," said Kim. "Whenever his dad calls, I just hand Jake the phone for a minute and they say hey and he gives me the phone back. Now they talk at least once a week on Jakes phone and sometimes I don't even get the chance to say hey!" Kim said, laughing.
Responsibilities
As teens get older, they usually take on more responsibilities, like taking out the trash, mowing the lawn, or making a meal once a week. Teen responsibility looks different in every family. But in Air Force spouse, Joe's, family, his eldest daughter, Katie, tries to take on more responsibility than she can handle.
"Whenever her mom is deployed, or in training, Katie thinks she needs to fill her mom's shoes," said Joe. "She gets her siblings up every morning from school, tries to make all of the meals and reminds me of all of the things that need to get done that day. Once, she even tried to tell me that I needed to take her out of school so she could go with me to her sister's doctor's appointment," he said. "She said 'Dad, I know all the questions Mom would ask and I'm afraid you'll forget.' I mean, Katie's only 14. She shouldn't be concerning herself with this stuff!"
After speaking with his wife about it, she and Joe sat down with Katie and made a list of what she was and wasn't responsible for. "That's when it came out that it makes her feel 'better' when she has control over the situation when her mom isn't there to control it," said Joe. "Between the list and having her talk with a counselor, Katie is much better at giving up that level of responsibility and just being a kid for once."
In a teen's mind, anything that sets them apart from the crowd can make them feel like they're under a microscope. Adolescence is a significant time of change, and military teens have the added challenges of navigating military life on top of those changes, but with the help of resourceful and understanding parents, teachers, counselors, and friends, military teens can continue to be resilient.
Do you have a military teen? What have been your biggest challenges/success so far?
Posted September 5, 2017