A Quick Guide to Federal Employment
By: Katie Savant, Government Relations Issue Strategist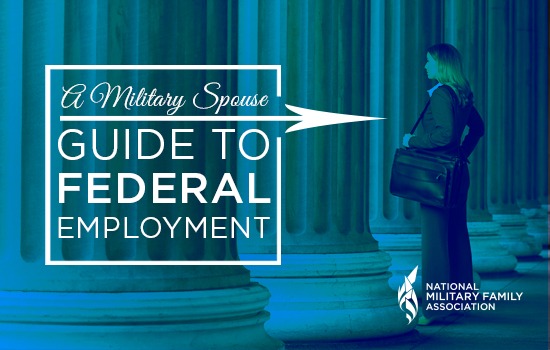 Military spouses can be attracted to federal employment for several reasons. Many find the mission of federal agencies aligns with their professional calling and want to be public servants. Other spouses know there are few jobs in overseas and remote locations and hope securing a federal job at one duty station will lead to a possible job transfer at the next.
But how do you get these elusive federal jobs?
There are resources out there if you know where to look.
Not going to lie—it's a tough field to crack but once you're in the federal system it does get easier to move around. The good news is a number of programs have been created to support spouse employment so take advantage of them.
The Military Spouse Preference program (MSP), also known as the Priority Placement Program (PPP) or Program S, gives military spouses an edge in Department of Defense (DoD) civilian personnel positions. The program only applies to spouses who meet certain criteria and to DoD vacancies.  You'll want to contact your local or regional civilian personnel office to register for this program. Federal resume writing expert, Kathryn Troutman, has several free resources on her website, including a free webinar with Bobb Winn from the Office of Personnel Management, discussing Program S.
The Noncompetitive Appointment gives military spouses eligibility to apply for certain federal jobs. You still have to meet the job qualifications of the new position and have moved with your service member on orders within the last two years. Be prepared to provide a copy of your service member's PCS orders and your marriage certificate. Military widows or widowers and spouses of 100 percent disabled veterans are also eligible for a noncompetitive appointment without the two-year limitation.
"That sounds great. Sign me up."
Federal jobs are posted online at USAJobs.gov and there are lots of resources to help. Resume and application help is often posted on USA Jobs itself.
You can find free federal resume writing classes offered on installations and through Spouse Education and Career Opportunities (SECO) counselors. If you want to DIY it, you can also download a free federal resume building template here.
Do you have a story about how a federal job has helped your military family? Tell us about it.
Posted August 8, 2016