Military Spouse Appreciation Day: Do They Even Want to be Appreciated?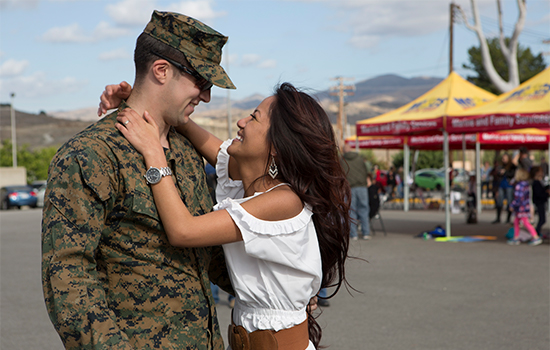 Every May, since 1999 when Congress officially made it part of Military Appreciation Month, we've been recognizing Military Spouse Appreciation Day. It's our chance to honor the commitment and sacrifice of the ones who stand behind the uniform. The Department of Defense joined suit in honoring military spouses by distinguishing the Friday before Mother's Day as the official Military Spouse Appreciation Day.
Pledging to support their loved one, military spouses are more incredible than they let on. They tackle parenting alone, put education and careers on hold to provide for their families, and in some cases, drop everything to care for their spouse injured in combat.
So why don't many of the military spouses we asked want to be recognized? Why would they call it 'just another day' as important to them as "National Grilled Cheese Day?"
"I don't need a pat on the back from those who don't understand this lifestyle," one military spouse said.
Another military spouse agreed, "My husband is the hero, not me. I don't expect anything special."
Celebrating Someone Else: Each Other
Besides quiet moments of appreciation from their service member, there was one other thing military spouses agreed upon…appreciating each other is what makes Military Spouse Appreciation Day special to them. There may not be a big ceremony, flowers, or a Presidential declaration, but military spouses do like to feel the love from each other.
"I try to use Military Spouse Appreciation Day as a reminder to thank the fellow military spouses I know who have made a positive impact on my life," one spouse shared. "It's a good excuse to send some love!"
Another military spouse shared the same sentiment, "Life is too short to not love and appreciate those around us [by saying] thank you to all the spouses in my life that I know and love."
At NMFA, we know military spouse serve in ways their civilian counterparts don't understand. Through the highs and lows of military life, military spouses overcome obstacles no matter what.
So on a day that's supposed to be all about them, it's no surprise most military spouses are doing what they do best: supporting and encouraging each other.
THAT is worth appreciating.
How do you celebrate Military Spouse Appreciation Day? Or don't you?

Posted by Shannon Prentice, Senior Content and Marketing Manager