Military Kids Find Their Tribe at Operation Purple Camp
By: MJ Boice, Staff Writer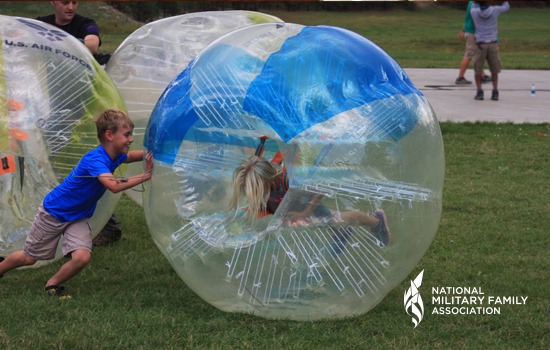 Being a military kid can be a tough job, and not many other kids understand what it's like. At NMFA, we know military kids serve too. And to support our awesome pint-sized heroes, we started Operation Purple Camps® (OPC).
These FREE weeklong camps bring together military-connected children from all walks of life. Their parents are active duty, Reserve, Guard or veteran military service members. In some families, both parents have served. Some of the campers' parents are deployed, while others are going through the challenges of reintegration when their parent returns home. But the one thing every camper has in common is that they're an awesome military kid.
OPC has served nearly 60,000 military kids since its inception in 2004, and even though the camp only lasts a week, the memories campers make last a lifetime. But you don't have to take our word for it!
WHAT OPC KIDS SAY
"I was able to make friends who understand me."
Having a parent in the military can often make a kid feel different from everyone else at a time when all they want to do is fit in. Many of them feel alone and believe that no one will ever be able to relate to them or understand what it's like to have a parent in the military.
At OPC, campers are able to share their stories about deployments, moving, or being the new kid every few years with other military children in their same shoes. They begin to experience a sense of belonging that they don't often receive at school or in their local community. Many of the friendships made at OPC last a lifetime.
"At home, we're all worried about my mom being deployed. It's stressful!"
At home, many of military children are consumed by the uncertainty of their parent's safety. Some kids bottle up their feelings about military life and often struggle in silence because they think no one will understand.
At OPC, campers are able to take a break from the stress of military life and just be regular kids. OPC has a trained staff, along with Military Family Life Counselors, on hand at every camp to help kids become the best version of themselves while they take a break from the stressors or extra responsibilities of their home life.
WHAT OPC PARENTS SAY
"My son really enjoyed archery so much he gave me instruction on how to do it!"
There are so many activities available for OPC campers to enjoy, including swimming, canoeing, horse-back riding, hiking, kayaking, zip-lining, and much more! These outdoor activities are designed to promote resiliency and build confidence in each camper. OPC strives to help military kids become the best version of themselves. Much of what they learn isn't taught in a school setting but many parents report campers use these skills to help them navigate military life long after camp is over.
Most campers say their favorite day at OPC is Military Day, where they get to learn more about their military parent's service from volunteer service members who come visit camp for the day. There are also military speakers who share their experiences with campers and answer questions about their military service.
"She was very emotional about the flag ceremony. She became very proud of her patriotism and took pride in her military connection."
Throughout the week, campers are celebrated for serving along-side their parents. By the last day of camp, these military kids are filled with a renewed sense of pride for their parent's military service, and they feel special to be a part of something much bigger than themselves. Their parent's military service is the glue that helps bond these children together, creating friendships that are continued for years to come.
A lot of OPC campers don't live near a military installation. Many of them are the only military kid in their class, and end up missing out on the tight-knit community that living on base offers. Operation Purple Camps are the perfect place for military kids to make friends and find their tribe! We hope to see your child at an Operation Purple Camp this year!
Posted February 20, 2018