Military Family Vacation? Don't Get Nickel-and-Dimed
By: MJ Boice, Staff Writer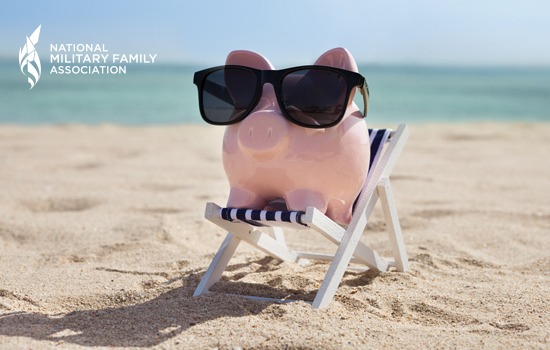 When planning a vacation at bargain-basement prices, most people budget for three key expenses—lodging, food, and airfare—since they usually make up the bulk of money spent.
But sometimes, it's the smaller expenses that can turn a $700 vacation into a $1700 vacation before it's over! If your family is looking to get away this summer, here are a few things you may want to keep on your radar to keep vacation costs in check.
Hidden Airline Fees
Trip insurance (a vacation planning staple for military families), taxes, and booking fees are all examples of small, individual purchases that end up making travel arrangements more expensive. It's best to plan ahead before you're nickel-and-dimed at the last minute.
Navy spouse, Stacie, learned this the hard way when she purchased plane tickets from an online booking site at a mere $120 apiece. "That's half the amount other airlines were charging!"
Stacie thought her family of four was getting a great deal, until she realized that the airline they were flying with has variable baggage prices; where baggage costs change depending on the departure location.
"We had to pay $50 for each of our checked bags," Stacie said. "Not only that, but they charged us for our carry-on bags, too! I almost made my kids wear the clothes we packed them all at once so we wouldn't have to pay those ridiculous baggage fees!"
If you want to avoid fees altogether and have some flexibility in your travel dates, you could always give Space Available flights a try!
Hidden Hotel Fees
Not all hotels are created equal. Some provide complimentary Wi-Fi for their customers while others charge by the hour. A buffet breakfast may be included in your room price while other hotels provide room service (on your own dime).
Most of us already know raiding the mini-bar will cost extra, but did you know you could be charged just for moving the mini-bottles around? That's exactly what happened when one soldier and his wife, Brandy, were on their honeymoon in Hawaii. "We put sodas in the door of the fridge where the mini-bar was, and so we moved the bottles out of the way. We really didn't think anything of it, until we saw our bill!" she said.
According to Brandy, they got the extra $150 charge taken off their bill, but it's a good thing they were careful in reading the fine print on their invoice before signing on the dotted line.
Other tips to avoid hidden hotel fees? Try looking at surrounding installations near your destination to see if they have any lodging available. You could end up in a cabana on the beach for pennies compared to full price hotel rooms!
Hidden Rental Car Fees
If public transportation isn't something you're interested in, you'll likely need to rent a vehicle (and pay for parking). You'll probably go online and see a quote that says something like: "Only $20* a Day!"
But do you see that little asterisk (*)? That means you absolutely need to read the fine print! At minimum, you'll want to call the rental company and ask them to give you a quote that's complete with taxes, surcharges, and other fees as well. You'll also want to make sure to fill up the gas tank before you return the vehicle. If not, many rental agreements state they can charge you almost twice as much if you return it with less gas than you started with.
You should also shop around before you choose a car rental company, especially since many of them offer military discounts!
Hidden Resort Fees
The all-inclusive resort; all you can eat, all you can drink, all the fun you could have in one convenient package deal with a pretty red bow on top. But the fine print is still there, and there may be a ton of surcharges if you're not careful.
Most resorts tout a 'resort fee,' which can be anywhere from $5-$20 a day! Even if you spend your entire vacation pool-side, you may still end up paying for access to their business center or fitness center. Some places will even charge for the use of beach towels, whether you bring your own or not!
Armed Forces Recreation Centers are an option if you're looking for a one-stop-shop vacation. These military friendly resorts offer a variety of amenities without the hidden fees. If you're headed to Florida for a Disney vacation, Shades of Green has an "extra magic hours benefit" that allows their guests to stay at one of the Disney parks an additional three hours after it's closed to the public!
*BONUS TIP
You'll also want to watch for signs of vacation deal scams, too. They tend to come out of the woodwork heavily in the summer months, so stay up-to-date and check out these travel alerts from the Federal Trade Commission.
This list isn't exhaustive, but it's definitely a start to help you through your getaway budgeting process. We want your military family to have the best summer vacation ever; without getting blind-sided by those unexpected charges!
Did we miss anything? If you have any stories or advice on what to watch out for when vacation planning, we'd love to hear them! Email us at info@militaryfamily.org to add something to this list!
Posted July 13, 2017