Military Families Will Pay More Money for Healthcare…Again.
By: Karen Ruedisueli, Government Relations Deputy Director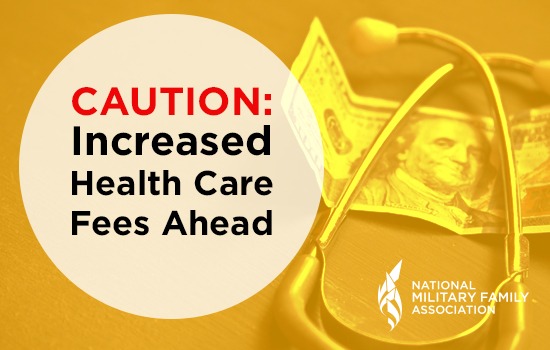 It's no surprise that more than a decade of war has led the military to sacrifice readiness levels, including those requirements that would modernize our force. But how will the Department of Defense (DoD) fix the problem?
The DoD wants military families and retirees to pay more money for healthcare.
That's right. It's not enough that our service members have provided the manpower for more than a decade of conflict—some serving multiple combat tours, sustaining life-altering injuries, even dying in uniform. Now, the DoD wants more. New proposals from the DoD would have military members paying for their own force readiness and modernization by increasing health care fees.
Last year, Congress passed a TRICARE Reform that rebranded TRICARE Standard/Extra into TRICARE Select. Among the changes, service members entering the military after January 1, 2018 would have to pay higher out-of-pocket costs for healthcare. But current service members and retirees would be grandfathered in to the new TRICARE program and wouldn't see any cost increase at all. These changes are supposed to go into effect on January 1, 2018.
But now the DoD wants to change some of those details so there's more money to use elsewhere.
With the FY18 budget request, the DoD's goal is to increase and accelerate TRICARE Reform cost savings. They propose three TRICARE Reform changes that will lead to higher out-of-pocket costs, including:
Removing the grandfathering provision, immediately resulting in higher out-of-pocket costs for all working age retirees. It would also gradually increase copays, deductibles, and the catastrophic cap for currently serving TRICARE Standard/Select families.
Increasing pharmacy copays, including introducing a copay for mail order generics that are currently available at no out-of-pocket cost.
Bigger annual increases to TRICARE out-of-pocket fees that would impact all working age retirees and currently serving TRICARE Standard/Select families. Their participation fees, deductibles, copays, and the catastrophic cap would have higher annual increases under DoD's proposal vs. the FY17 NDAA plan.
On the bright side, the budget request maintains TRICARE Prime as a minimal out-of-pocket cost option for active duty families, regardless of proximity to a Military Treatment Facility. It also proposes a benefit enhancement for survivors, and those medically retired, by treating them the same as active duty family members, with no participation fee and lower cost shares.
We know it is unrealistic to think military health care out-of-pocket costs will never change. While NMFA has been open to discussing fee increases that may improve the military health care benefit, we are adamantly opposed to asking service members and retirees to fund military readiness by increasing their health care fees.
We are living in an increasingly unstable world with ever greater emerging threats. Our nation's budget is tight, and our service members are being asked to do more with less. We cannot ask those who step forward to defend our country to also fund their own training and equipment by paying more for their families' health care.
Posted May 24, 2017