Military Families Relying on Au Pairs Hit Hard by J-1 Visa Ban
Update 10/22/20: Yesterday, Sen. Tammy Duckworth (IL) introduced S.4842, A bill to prohibit the suspension or limitation of the admission to the United States of au pairs for military families during the COVID-19 pandemic, and for other purposes, to exempt our military families from the au pair visa ban. Since the ban went into effect, we've heard from military families all over the country worried about how their families can serve without the flexible, in-home child care they need. NMFA is grateful to Senator Duckworth for her support of military families and the child care workers they rely on. NMFA knows that access to affordable, high-quality child care is essential to military readiness — and to military family wellbeing.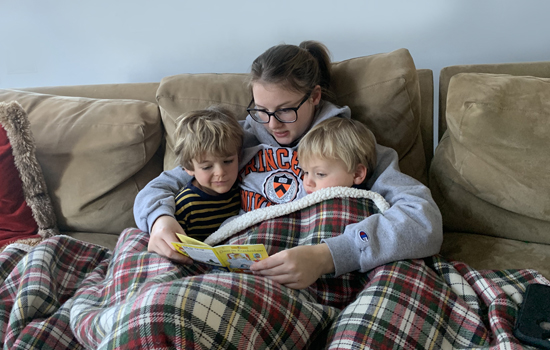 Military families know how critical child care is – and how hard good childcare is to find. More than 40% of service members have children, and the largest cohort of these children is under age five, yet access to high-quality, affordable child care is often cited by families as one of their biggest concerns.
For some military families, au pairs offer a solution to the child care puzzle.
Au pairs are typically younger adults, often aged 18-26, who come from a foreign country to the United States for a pre-established period of time as part of a cultural exchange program. An au pair is vetted by the State Department and lives with a matched host family, offering help with child care and often housework. In exchange, the au pair will experience a year or so abroad and be exposed to American life and culture. Don't think live-in nanny — think extremely awesome, college-aged babysitter who happens to live upstairs.
Au pairs are here legally, but the coronavirus pandemic has complicated the process. COVID-19 restrictions have closed U.S. consulate offices abroad, leaving many temporary foreign workers unable to obtain necessary visas. Further worsening this process, J-1 visas that allow many au pairs to legally work in the United States were banned by Presidential Executive Order effective June 24.
Since then, the National Military Family Association has heard from military families – including some who are dual military – in the Army, Army Reserve, Navy, Marine Corps, Coast Guard, and Air National Guard who rely on au pairs to work and will be directly impacted by these rules. For these families, au pairs offer a childcare solution they cannot get elsewhere.
Au pairs can work flexible hours and overnight, and they provide an extra set of hands during a deployment and can even move with a PCSing family. For military families with two working parents, those guarantees alone are enough of a draw, but families who use au pairs say that's only a small portion of the overall value. Au pairs, usually coordinated through longstanding, highly regarded cultural exchange programs, expose families to new cultures and sometimes even other languages. Families coping with an injury or illness report that their au pairs have helped their family overcome new physical limitations. All agree that au pairs are the most cost-effective approach to the childcare their families need.
And because au pairs become part of a family for often two years at a time, military families who rely on au pairs spend a long time finding the right match. Interview and assignment processes are rigorous and time consuming for both the au pair and the family. When an au pair finally arrives, everyone is excited about the adventure ahead – and relieved to get started.
Many of the families who reached out to NMFA were planning to welcome new au pairs into their home this summer. With those plans suddenly on hold, they're now faced with a lack of adequate and affordable child care – at a time when childcare is unusually limited and finding it even harder.
"This week's Executive Order puts an inordinate amount of stress on our family," Sarah Holley, a Navy spouse, told us. "Instead of focusing on our last few weeks together as a family before sea duty begins, my husband and I are trying to find local care options, navigating the Navy travel bans and challenges of bringing in family to support us, and all while we wait to hear what the long term future will be of the Au Pair program."
Military families impacted by these policies will face tough decisions in the days ahead. Spouses will rethink their own careers, contemplating quitting jobs; some service members say they may be forced to turn down duty assignments and instead stay closer to home.
"My husband has talked about how they are short staffed in the Pentagon because of COVID and they are asking for reservists to come for 60 days," Daney, a military spouse said. "I am going to ask him to withdraw his name because this is asking too much if I do not have an Au Pair helping at home."
Family security and military readiness are inexorably linked – and equally affected. That's why NMFA, along with the Alliance for International Exchange and au pair agencies, is asking for an exemption for au pairs from the J-1 visa ban in effect through the end of the year. We know child care is a critical component of the military life puzzle – and we are committed to helping military families solve it.
Are you hosting an au pair or struggling to find childcare? Let us know how we can help.