Military Families Need Access to Dependent Care Flexible Spending Accounts Now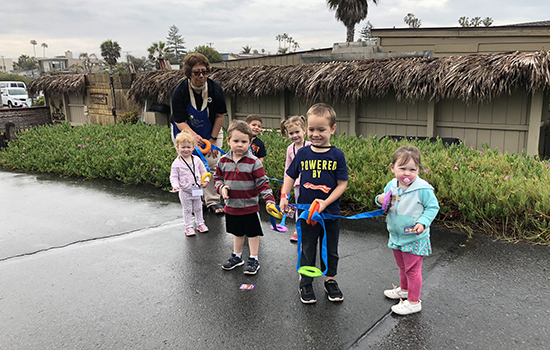 If you're a military family with young children, chances are you're well-acquainted with the child care crisis our nation is currently experiencing. You may even be encountering long waitlists for on-base CDCs and astronomical child care costs out in town along with waitlists there, too.
For many families, child care feels like an impossible hurdle. You can't work without it, and you can't afford to get it. The National Military Family Association (NMFA) is trying to help.
NMFA knows that military families need access to high-quality, affordable child care options, and we're fighting to make sure you get it. Of the 1.6 million military children, the largest percentage are five years old or under (37.8%). For their parents to go to school, work, and pursue careers — or even just to get to a doctor's appointment or run errands — those kids need a safe place to be. We know there's no silver bullet to this problem plaguing our service members and families, which is why we're asking the Department of Defense (DoD) and Congress to consider several policy changes that could help. The DoD should establish dependent care flexible spending accounts (DCFSAs) for our uniformed service members.
Interestingly enough, the federal government already knows how helpful flexible spending accounts can be for child care. That's why they offer them through a program called FSAFEDS to all federal civilian personnel. The only federal employees who don't have access to this program are service members.
As a member of The Military Coalition representing 5.5 million members and their families, we told Defense Secretary Lloyd Austin that military service members deserve parity in this program as the DoD develops an implementation study this year. If other federal employees get financial help with access to a flexible spending account, so should the military.
What is a Dependent Care Flexible Spending Account?
A dependent care flexible spending account is a pre-tax benefit account that would allow the service member to designate up to $5,000 per year out of their paycheck for child care or adult care expenses. If the family consists of a two-parent household, both parents must be working or searching for work to qualify.
What child care expenses qualify?
We know not every family accesses child care through a daycare program or facility. A lot of families rely on the help of older-kid babysitters, neighbors, or friends. While you cannot use the flexible spending account on casual care (what some of us would call 'under the table'), you *can* use it in a lot of creative ways. Think: Preschool, summer day camp, before- and after-school programs, learning centers your child might be using during school closures, and child or adult daycare including tax-reported babysitting and nanny services.
How will my family financially benefit?
You'll be paying for child care pre-tax, so right away, you're going to save some money. Exactly how much depends on what tax bracket you fall into. The average military family will save $600 (12% tax bracket) or $1,100 (22% tax bracket) each year if they take full advantage of the DCFSA. That's not including if a family is eligible to also take advantage of the Child and Dependent Care Tax Credit, which would save you even more money.
Expanding access to dependent care flexible spending accounts to military families is a small ask that could help with a big problem. Will it solve the child care crisis or free up more room at your CDC? Definitely not (We're advocating for other federal policies to tackle these issues too.) But it might help you pay for the child care you get — one step in the right direction.
A new opportunity to create Dependent Care Savings Accounts is now being considered in the bipartisan, bicameral Jobs and Childcare for Military Families Act, which was re-introduced on Military Spouse Appreciation Day in May 2021. For the 49% of military spouses who told us their access to child care was reduced or lost entirely during the pandemic and the thousands who have applied for our Child Care Fee Relief program, help can't come soon enough.
Want to learn more? Check out our issue advocacy paper.
NMFA will continue fighting to ensure military families have access to the high-quality, affordable child care their families need. If you have a story you want to share with us about your family's struggle for care, tell us here. We're here for you.